by Julie Dodd
Restoration work has started on the Alum Cave Trail, one of the most popular trails in the Smokies.
The two-year project, which began on May 4, will improve safety for hikers and reduce trial erosion.
The trail and the trailhead parking areas will be closed Monday through Thursday weekly from now until Nov. 19, excluding federal holidays. The trail will be open only Friday through Sunday each week.
The Trails Forever trail crew, funded by Friends of the Smokies, will work on sections of the trail to repair the cable and handrail system, improve drainage to prevent further erosion, and reinforce some sections of the trail.
Those who hike the Alum Cave Trail know how helpful those cables and handrails can be, especially on rainy or icy days or following heavy rain.
"Alum Cave Trail has so many unique nature and historic features," said Trails Supervisor Tobias Miller. "Our crew is working alongside the park's cultural and natural resource managers as we plan the restoration to insure that features are protected as we improve trail durability and safety."
Volunteers on Wednesdays
Volunteers will join the trail crew on Wednesdays to assist, which includes skilled and non-skilled trail work.
In order to volunteer, you must contact Alan Chapman, Trails Volunteer Coordinator, in advance — Alan_Chapman@nps.gov or call 828-497-1949. Only those who are scheduled to be volunteers are allowed to work with the trail crew.
You will receive directions from Chapman regarding the date of your volunteering, what to wear, and what to pack.
Volunteers need to be able to hike to the work location from the parking lot and should be prepared to work all day – rain or shine.
You can read more about volunteering on the Trails Forever volunteer information website.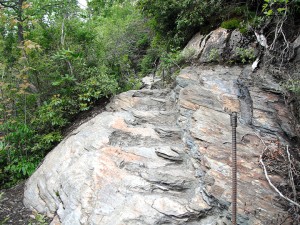 I volunteered with the Trail Forever crew on the Chimney Tops Trail last summer and really enjoyed the experience.
For every activity – from moving vegetation to using a chisel to cut rocks for securing stone steps – I received instructions.
Volunteers receive hard helmets, gloves and goggles.
LeConte Lodge and the Mt. LeConte backcountry shelter remain open and are accessible from these five trails throughout the week:
Boulevard Trail (8 miles) reached via the A.T. from the Newfound Gap parking area
Bull Head (7 miles), Rainbow Falls (6.7 miles) and Trillium Gap (6.5 miles) trails from Cherokee Orchard Road
Porters Creek/Brushy Mountain/Trillium Gap Trails (9.1 miles) in the Greenbrier area of the park at the Porters Creek trailhead
FOTS has contributed more than $710,000 for trail rehabilitation in the park.
Trails Forever program began in 2008 with a $2 million challenge grant from the Aslan Foundation of Knoxville and now is now an endowment of more than $5 million. Trails Forever funds a third full-time trail crew, in addition to the park's two trail crews – one for North Carolina and one for Tennessee.