by Julie Dodd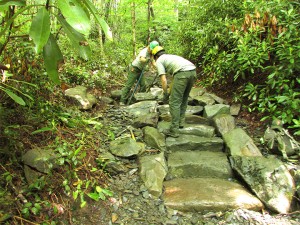 If you've hiked the Alum Cave Trail in the last few weeks, you know that The Friends of the Smokies Trails Forever crew is making progress on the restoration of this popular trail.
The 11-person National Park Service crew is joined by 21 Conservation Corps members on Monday through Thursday. The trail work started in May and will continue through mid-November for this phase of the work and will continue during 2016.
On trail work days, the trail is closed to hikers. But the trail is open Friday through Sunday, which is when I hiked to Alum Cave to see what changes are being made.
The crew is rebuilding the staircase through Arch Rock, moving the staircase toward the center of the rock formation to make the lower half of the climb less step, explained Josh Shapiro, Trail Crew Leader.
The crew also is improving the trail surface in sections – removing roots and rocks, digging drains, and cutting back vegetation.
Volunteers can join the Trails Forever crew on Wednesdays but must register in advance with Alan Chapman, Trails Volunteer Coordinator — Alan_Chapman@nps.gov or call 828-497-1949. Only those who are scheduled to be volunteers are allowed to work with the trail crew.
This year, the park has requested $244,300 from Friends of the Smokies to complete Phase 1 of the 2-year rehabilitation project. The Trails Forever crew previously restored Forney Ridge Trail and Chimney Tops Trail , working three years on each trail.