by Julie Dodd
We want to keep you in the loop about the status of the 2020 Cades Cove Loop Lope.
The race is scheduled for Sunday, Nov. 8. Registration for the race opens on Aug. 6 at 10 a.m.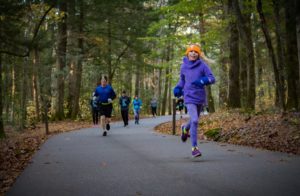 The Cades Cove Loop Lope is the only organized footrace held inside Great Smoky Mountains National Park.
All funds raised benefit park projects and programs, such as historic preservation, wildlife conservation, native plant and grassland restoration, and much more.
The race has two course options — a 5K or a USATF Certified 10-Mile Loop. Participation is limited to 750 total runners.
Last year's Cades Cove Loop Lope raised more than $100,000 for the Great Smoky Mountains National Park.
This spring as plans were being made for the 2020 race, COVID-19 hit.
Survey of former race participants
In mid-June, FOTS sent a survey to approximately 1,700 former race participants, volunteers and race sponsors to see how they felt about participating in the 2020 Cades Cove Loop Lope.
"It has been a challenging time for all of us as we navigate a 'new normal' in our personal lives as well as continue to support projects and  programs that we are passionate about," said Kathryn Hemphill, FOTS Special Projects Director and Race Director.
"While our mission at Friends of the Smokies is to raise funds and awareness for the park, we also have to keep in mind the safety of our runners and volunteers when planning for large gatherings," she said.
"That's why we reached out to our Cades Cove Loop Lope community of past participants, volunteers, sponsors and folks who are interested in running this year to see how we can serve them best in 2020."
Ready to register for race
The survey results indicated that most participants are comfortable registering for and attending the race, as long as CDC guidelines allow for large gatherings in November.
So the decision was made to open the registration on Thursday, Aug. 6. Last year's race sold out in only a few weeks.
"As we continue to monitor recommendations surrounding large gatherings, we will make plans and accommodations for safety," Hemphill said. "Our hope is that everyone feels comfortable coming together to support the Smokies and run one of the most beautiful courses in the country."
For more information, check the Cades Cove Loop Lope website.