by Julie Dodd
The Chimney Tops Trail is officially re-opening on Dec. 12, 2014, after three years of trail restoration. The ribbon-cutting ceremony for the trail will be held in April, but for now we can celebrate the completion of the trail work.
The Chimney Tops Trail is one of the most popular trails in the Great Smoky Mountains National Park, with often hundreds of hikers on the 2-mile trail every day. The trail was selected by the Great Smoky Mountains National Park and Friends of the Smokies for restoration through funding by the FOTS Trails Forever program.
The restoration required three years, beginning in 2012.
"After three work seasons of hard work, the Park has finished rehabilitating the entire two miles of Chimney Tops Trail," said Tobias Miller, Supervisory Facility Operations Specialist for Trails. "It has been one of the most ambitious trail projects I have ever been involved with, and I am very proud of what the trail crew has been able to accomplish with the generous support of Park management and our partner organization Friends of the Smokies."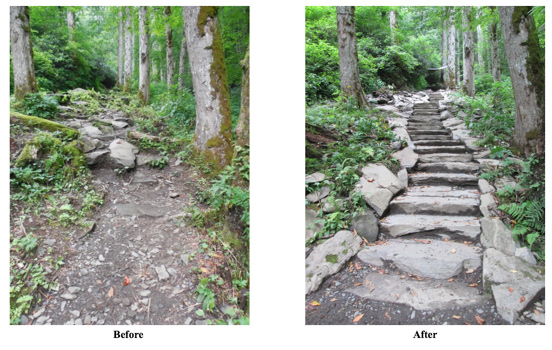 Through the Trails Forever Endowment, which has now grown to $5 million thanks to your donations, FOTS funded a special Trails Forever crew for the project as well as equipment and materials. Over the course of the Chimney Tops project, FOTS contributed:
2012 – $121,000
2013 – $151,300
2014 – $150,000
The result is truly spectacular with hundreds of stairs replacing steep and often slippery dirt sections of the trail.
Restoration work in sync with nature
All of the work was done by hand with materials on site, with the exception of the locust log steps and retaining wall materials that were airlifted in by helicopter.
"We have been working in sync with nature," said Eric Wood, assistant trail crew leader, "building with rock and wood with the intention of leaving behind trail improvements that will last beyond our lifetime for future generations to enjoy.  Working hard every day and seeing the transformation of this trail has been rewarding beyond words."
Volunteers played key role in trail work
Volunteers played a big role in the trail renovation work. NPS volunteer coordinator Jamie Sanders reports that 40 volunteers worked on the trail during 2014, working a total of 9,534 hours.
The volunteers included a Student Conservation Association (SCA) crew consisting of eight high school students who worked 16 10-hour days and an American Conservation Experience (ACE) crew of 10 young people who worked 10-hour days for 20 weeks.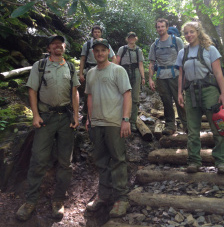 "It's been a real pleasure working with all of the volunteers, conservation corps members, and NPS staff during the past three work seasons," said Josh Shapiro, trail crew leader. "The work accomplished on Chimney Tops Trail is the direct result of their hard work and dedication."
I spent a day as a volunteer with Josh as the trail crew leader. As decisions were made throughout the day, Josh reminded us of our goal of creating a trail that could last for 100 years.
When I had to fill a section of a step where the rock was not exactly square, he had me find five different rocks (each about 10 pounds) to use in selecting the best fit. I used a hammer and chisel to shape the best stone to fit snugly in the opening in the step.
The ACE crew selected rock from a stream area and then moved the rocks from the stream bed to a work area where the rocks were cut with a power saw into the needed dimensions for a step. Josh and the trail crew positioned each step, using a level to check that the step was even. The other volunteer and I that day pounded rock to use as fill to make sure every stair was secure.
Highlights of trail work
367 rock steps each weighing approximately 300 pounds each
291 locust log steps, each weighing approximately 80 pounds each
700 square feet of locust retaining walls
1600 linear feet of uphill drainage ditches created.
40,000 cubic feet of rock crush fill (6 million pounds!) made on site by hand to harden trail tread and fill trail structures.
53 hazard trees removed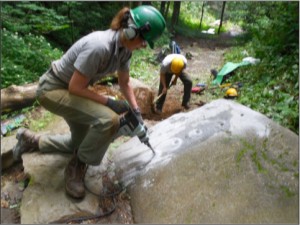 Trail crew member Kelly Grzasko captured the beauty and accomplishment of the trail renovation.
"Having been part of the construction on Chimney Tops Trail, I now realize how much I took for granted the trails we all hike upon," Grzasko said.
"There's much more than meets the eye.  Certainly, we see the finished product of elegant staircases and scenic vistas, but knowing how each stone was gathered and placed, how thousands of tiny rocks were crushed by hand, how heavy beams of locust were carried strenuously uphill upon our shoulders was no small feat. It's not just a trail. It is a work of art."
***
The parking lot for the Chimney Tops Trail is on Highway 441, about 30 minutes from Gatlinburg.
You can make a donation to FOTS Trails Forever to help with future trail restoration work. The Alum Cave Bluff Trail has been selected as the next Trail Forever project, with work beginning in 2015.