by Julie Dodd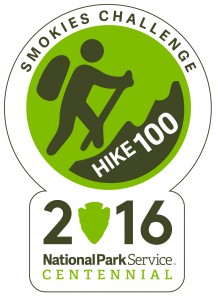 A great way to celebrate the 100th anniversary of the National Park Service is by taking the "Hike 100" challenge.
The Hike 100 challenge encourages you to hike 100 miles of trails inside the GSMNP boundaries during 2016 – with a deadline of Dec. 6.
You decide which trails to hike. You can hike many different trails. You can hike the same trails multiple times. You can participate in Classic Hikes of the Smokies and Get on the Trail with Missy & Friends, guided hikes that support FOTS initiatives in the Smokies. The Hike 100 website includes a sample 100 Mile Hike Plan.
Hikers of all ages and new-to-hiking or experienced hikers are encouraged to participate.
Download the Hike 100 hiking log and keep a record of your 2016 hikes. When you have hiked 100 miles in the Smokies, you will submit your hiking log via email and then receive a "Smokies Centennial Challenge — Hike 100" pin.
Park Superintendent Cassius Cash has committed to hiking 100 miles of park trails and is using the challenge as a way to get more people hiking in the Smokies.
"I invite people of all ages and backgrounds, including millennials, to join me on this journey as we discover and explore the Smokies," Superintendent Cash said in promoting the Hike 100 challenge.
"The Hike 100 challenge allows me to have a personal role in ensuring that the next generation of park users, supporters, and advocates carries on the legacy of the National Park Service for the next 100 years," he said. "The lifeline of any legacy is to ensure that our voices are not only heard by the next generation, but also shared in a manner that inspires them to pick up the torch from the previous generation and carry it forward."
Four special hikes have been scheduled when you can hike with Superintendent Cash.
Front country hikes that are open to everyone:
Saturday, August 20, 2016 – Gatlinburg Trail
Saturday, December 3, 2016 – Oconaluftee River Trail
More information on those hikes will be posted on the GSMNP Hike 100 website.
Backcountry hikes are limited to a maximum of 20 hikers each:
Saturday, June 25, 2016 – a trail in North Carolina
Saturday, October 8, 2016 – a trail in Tennessee
You must register for these two hikes. A link to email to register is on the GSMNP Hike 100 website.