Great Smoky Mountains National Park, Save Our Smokies, and Responsible Stewardship are combining efforts to honor National Public Lands Day, September 24, starting at 8:30 a.m. at the Oconaluftee Visitors Center. Coffee and pastries will be provided by Friends of the Smokies. Special Guest Speakers will kick-off the event, then attendees will have a variety of options to show support for our public lands.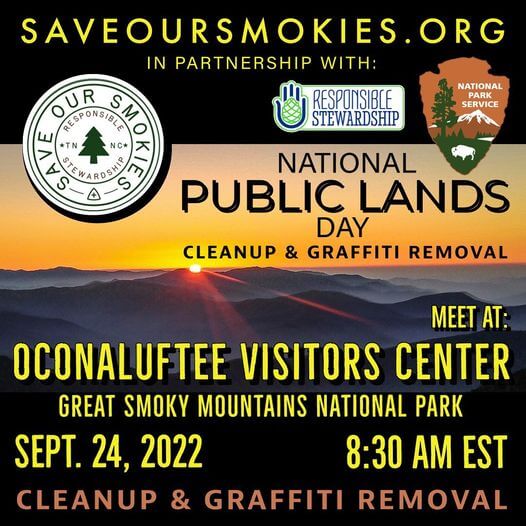 Participants will have several opportunities to volunteer on a variety of projects and activities. Save Our Smokies will host a litter pick up initiative to address high use overlooks, common areas, and trailheads throughout the park as well as a graffiti removal project.
Trails Volunteer Coordinator Adam Monroe and the NPS Trail Crew staff will lead work on the Oconaluftee River Trail rehabilitation project. Lasting improvements will be made on this popular multi-use trail that connects the park to the neighboring Quala Boundary and Cherokee, NC.
If you are interested in volunteering with the trail crew, email adam_monroe@nps.gov or call 828-497-1949 to register.