by Julie Dodd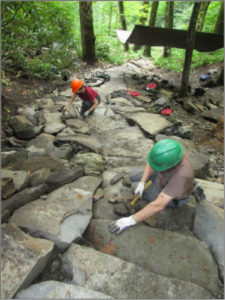 Being a Trails Forever volunteer is a great way to support hiking in the Great Smoky Mountains National Park and to learn about what's involved in restoring a trail.
The Trails Forever volunteer program operates on Wednesdays from May through August.
This year, volunteers will assist the Trails Forever crew that is working on restoring Rainbow Falls Trail. This is the second year of restoration work on this popular trail.
I enjoyed the experience of volunteering twice with Trails Forever crews — one time working on Chimney Tops Trail and the next time working on Alum Cave Trail.
What's involved in volunteering
When you volunteer, the day starts with a safety training session and stretching in the parking lot at the trailhead. You then hike to the work location on the trail.
On the hike to the work location when I volunteered, Trails Forever crew supervisor Josh Shapiro explained progress on the trail and pointed out trail improvements, including the addition of drainage systems and staircases and removal of rocks and roots from some sections of the trail.
During the days I volunteered, I saw what was involved in creating stone and locust log staircases. My own work included collecting plants to landscape sections of the trail to prevent erosion and to encourage hikers to stay on the designated trail. Then after training, I chiseled rock to secure stairs.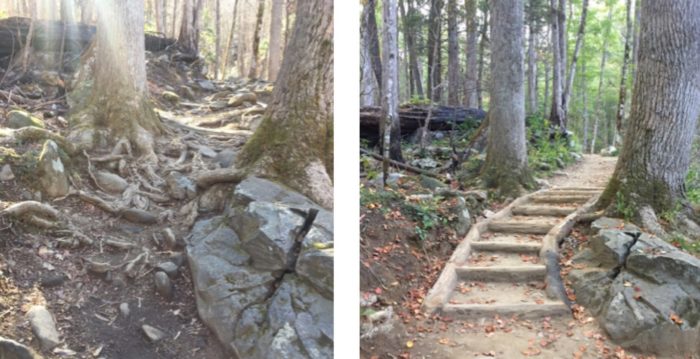 Register to volunteer
You must register in advance to volunteer. The volunteer work each Wednesday is designed based on the number of volunteers and their age and ability level.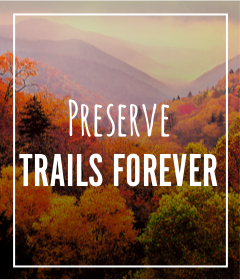 You can learn more about the program on the Volunteer with Trails Forever webpage. To volunteer, contact Adam Monroe via email adam_monroe@nps.gov or call 828-497-1949.
Click here to make a donation in support of the Trails Forever program.
The photo at the top of the blog post is of volunteers who helped the Trails Forever crew working on Alum Cave Trail. All photos provided by Josh Shapiro, NPS.