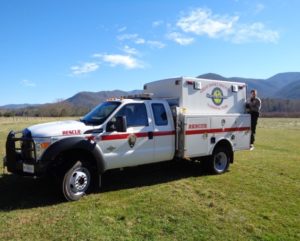 The Smokies is the most visited park in America, although the park is free to enter, it is not free to maintain, and we need your help. Friends of the Smokies needs to raise $75,000 for a new fully equipped search and rescue vehicle as well as additional funds to support other critical park needs.
Friends of the Smokies supports the park in ensuring guests have a safe and memorable visit to Great Smoky Mountains National Park as it reopens to its full capacity.
---
The Telethon Re-Imagined
Sadly, due to the pandemic it is necessary to cancel our Friends Across the Mountains Telethon this August, but thankfully, our partners at WBIR & WLOS are creating a televised Donor Drive Campaign that will be taking place later this year. We want to share the ongoing needs of the park with you and celebrate your commitment to the Smokies. If you live in East Tennessee or Western North Carolina, you can tune in live for a unique tribute to the park and see how Friends like you are making a difference. We'll also share these stories online for everyone to enjoy after the broadcast.
As we face the stress of these difficult times, we have been thinking about our supporters. People like you help us sustain our mission to preserve, protect and provide for Great Smoky Mountains National Park, so everyone can enjoy it today and for generations to come.