---
See a program you love?
Your gifts help us fulfill this Park Support List each year and make a huge difference for the park. Make a donation in support of a program today!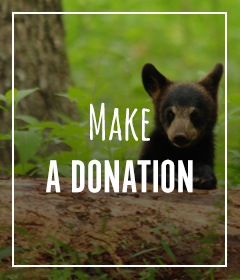 ---
Resource Management & Science
Resource Management and Science Interns Support for interns with housing  –  $ 71,800
The interns will spray for hemlock woolly adelgids, eradicate non-native plants, sample streams for brook trout, help trap problem bears, and assist with research activities. The interns get an enormous amount of work experience while also providing cost-effective labor. This funding provides a small living allowance and park housing to these young people who come from all over the US and often become future NPS employees.
---
Suppress Hemlock Woolly Adelgid Infestation  –  $ 59,300
The park continues to maintain healthy hemlocks on the landscape with park staff, AmeriCorps interns and volunteers working in the woods to save this iconic tree. Friends stepped up in 2003 to help the park begin the nation's most ambitious and successful treatment programs for hemlock woolly adelgid. Throughout the range of hemlock, from North Georgia to Canada, the Smokies has set an example for hemlock preservation. The park annually protects over 300,000 trees in conservation areas. Trees are currently treated on a 5 to 7-year treatment rotation on over 12,000 acres of multiple forest types throughout the park. In 2019, over 49,000 hemlock trees alone were treated with the help of the Friends! Annual monitoring protocols show that a single systemic treatment costing approximately 10 cents per inch diameter can protect a tree for up to seven years, an affordable option that is saving the park monies in the long run. The project includes an integrated pest management approach to control HWA initially with insecticide and simultaneously establishing a natural predator prey balance with biological control in the form of predatory beetles. Since the hemlock conservation program, the park has released over 600,000 predatory beetles along with some of the first silverfly releases in the country as part of the landscape-level control effort. Recently, researchers have learned that wild-caught beetles have a better rate of survival than lab-raised beetles and the park is now using more beetles caught from regional insectaries.
---
Public Safety Treatment of Ash Trees  –  $ 9,000
Emerald Ash Borer, a non-native wood boring beetle that feeds on both species of ash trees in the park, has been confirmed along the Gatlinburg Trail, Greenbrier Road, Roaring Fork Motor Nature Trail, Little River Road, Cades Cove and along the northeast boundary of the park. This proposal is for systemic treatment of ash trees in developed areas (campgrounds, picnic areas, parking areas) to prevent hazard tree danger and to treat high ecological value backcountry ash. Some of the trees under threat from EAB exceed 30 inches in diameter and are in good to excellent health. Without treatment trees often die within three years of first signs of infestation, creating hazard trees along roads, in campgrounds, picnic areas and along popular trails.
---
Reduce Backcountry Bear Problems with Food Storage Cable Systems  –  $ 8,000
Each backcountry campsite and shelter has a pulley and cable system which campers are required to use to hoist their food and packs out of the reach of bears for the increased safety of both visitors and bears. Each year a number of these systems are damaged through use or by falling trees and must be replaced.
---
Bear Management Project  –  $ 4,200
These funds will enable wildlife biologists to purchase new and/or refurbish old black bear GPS radio collars. These collars will be used when DNA analysis is needed to track bears suspected of a bear attack or other significant human/bear interaction while we wait on confirmation of matches between the attack and the suspect bear. These collars are also being used for pilot research projects to determine what happens to conflict bears that are relocated out of the park, as well as, the effectiveness of aversive conditioning tools on bears.
---
Elk Management and Monitoring  –  $ 15,700
These funds will allow us to purchase immobilization drugs, tags, GPS collars, aversive conditioning supplies, and capture equipment. These monies will also help us support staffing needs to repair enclosures and other work activities associated with the elk program. This works helps us better manage elk populations and model population survival and reproduction rates.
---
Wildlife Program Operational Support (4 seasonal employees)  –  $100,900
These funds are used to hire seasonal field staff to conduct wild hog control. The positions work from December through June, the most efficient and effective time of year to control hogs. The efforts of these positions are the primary reason we have been able to keep the hog population relatively low. A seasonal technician is also hired during the summer to support elk monitoring, as well as, assist with human-bear and human-elk conflicts.
---
Cataloochee Field Management  –  $ 6,400
As a part of our grassland management and restoration efforts in Cataloochee, fields are kept open by several methods to help provide varied habitats for turkey, coyote, fox, rabbit, deer, bear, elk, and ground nesting birds such as quail. Some fields are mowed after nesting season, while others are burned in the gradual process to restore areas to native meadow habitat. These funds help support mowing operations.
---
Cades Cove Prescribed Fire Treatment for Field Management  –  $ 15,000
The use of prescribed fire in combination with mowing and other management actions have been used for decades in Cades Cove. As outlined in the draft Cades Cove Desired Future Conditions Plan, the purpose of these treatments include: preserving the historic open character of the land, providing diverse wildlife habitat, protecting the area's distinctive natural resources, and continuing to afford the public with opportunities to experience the site's unique cultural history and scenic views long associated with the Cove. The scope of the work will include the application of prescribed fire in designated units covering approximately 600 acres to reduce exotic plant species, encourage the establishment and spread of native forbs and grasses, and reduce woody encroachment into fields.
---
Cades Cove Historic Field Restoration  –  $12,000
There are smaller patches of land at Cades Cove that are not effectively treated with prescribed fire. This project uses mowers and large masticators which effectively reduce the heavy woody debris that has accumulated in certain units. The ultimate goal of the project is to restore the establishment of native forbs and grasses in these areas to a point where they can be maintained with prescribed fire.
---
Air Quality and Meteorological Monitoring  –  $ 20,800
These funds will enable the park to continue to maintain the long-term monitoring data set for ozone and meteorological monitoring at Cades Cove and the critical high elevation weather station at Cove Mountain, which provides the park with the mountain wave and wind gust information. This will provide the state, EPA, and the park information on protecting and maintaining air quality public health standards and timely information for park staff and visitors to help them evaluate the air quality and weather conditions.
---
Mercury Monitoring  –  $ 8,650
Mercury deposition and bioaccumulation in the food web at the park is a significant concern. Recent results show that mercury deposited from the atmosphere is being detected at unhealthy levels in some of the park's streams and rivers in smallmouth bass. It has also been shown to be at high levels in certain salamanders and bird species. Mercury has been monitored in the park since 2002, and the funding will support that annual operation (total and methyl-mercury sampling and measurements) at Clingmans Dome and Elkmont.
---
Water Quality Monitoring Program  –  $ 105,000
One of the park's biggest single resource issues is trying to improve water quality in North Carolina and Tennessee. All of the Park's watersheds have their headwaters deep within the protection of the Park far from any upstream point-source pollution, but due to the large amounts of air borne acid and mercury being deposited, and leaching out of soils, many of the Park's high elevation streams are too acidic to support brook trout. This project supports a long-term UT study that will help correlate changes (reductions) in acid being deposited with changes in water quality at a site on Noland Divide.
---
Fisheries Program Support (2 seasonal employees)  –  $ 18,500
Funds be used to support restoration work for the Blotchside Darter in Abrams Creek and Brook Trout in Anthony and Little Cataloochee Creeks. Field staff will help collect fin clips for genetics, monitor population abundance, and collect and translocate both species back into restored creek sections.
---
All Taxa Biodiversity Inventory (ATBI) Support  –  $ 15,000
The ATBI has been underway for over 20 years and we now have a very good understanding of what species are here for some groups. However, others groups are problematic. This work will allow scientists to better determine expected diversity levels of problematic groups so that future inventories can target specific endpoints that allow us to reach completion of the ATBI . Information will be gathered from primary literature, directly from taxonomic authorities, and through statistical analyses and determining ratios among groups.
---
Scientific Research Support  –  $ 8,000
This funding directly supports research needs originating from the park. At times, issues and questions come up that need immediate response before traditional research funding may become available. Recent examples of projects include the green tree frog survey, wildlife disease and genetic work in Cades Cove.
---
Web Cams  –  $ 10,200
This funding will support the upkeep and maintenance of web cams at Clingmans Dome (May- Oct) and Newfound Gap (year-round) to provide daily images (every 15 minutes) as well as weather data for park staff and visitors. The weather data, including ambient temperature, relative humidity, precipitation, and snow depth, will provide timely information for park staff and visitors to help them prepare for travel in the park.
---
Vegetation Mapping Project (Seasonal Staffing Support)  –  $ 24,000
These funds will be used to support Vital Signs long-term monitoring of vegetation and soil quality across the park. In addition, this position will work on monitoring vegetation recovery from the Chimney Tops 2 fire, grassy and heath bald monitoring and wetland inventories.
---
Cherokee Gathering Permit Monitoring (Seasonal Staffing Support)  –  $ 24,000
These funds will enable field staff to monitor sochan gathering as part of the Gathering Agreement with the Eastern Band of the Cherokee Indian along with the collection of inventory data on plants likely to be requested for gathering in the future.
---
Collections Preservation Center Specialized Equipment and Supplies  –  $ 500
With the completion of the collections unpacking and processing, the museum staff has identified the need for a dedicated cleaning space for potentially hazardous materials including mold and mildew. These funds will be used to purchase a ductless hood and isolation cabinet to be set up in the Collections Preservation Center loading bay along with storage supplies for archaeological and historical collections. (Donald Reagan Estate Fund)
Resource Education
Parks as Classrooms Program  –  $ 139,000
These funds support the field staff to provide curriculum-based education programs to approximately 20,000 students and training workshops for an average of 400 teachers each year. The staff also provide summer youth program and run the high school intern project. Education programs are held in TN at Sugarlands, Cades Cove and Twin Creeks and in NC at Purchase Knob, Deep Creek, Oconaluftee and Clingmans Dome. These hands-on, ranger-led lessons utilizing the park as an enormous outdoor classroom help foster a love for nature and inform the next generation of park supporters. Staff quickly adapted during the pandemic to develop virtual programming and Parks in Classrooms opportunities. Note: $68,000 in funds were approved in FY20, but only $15,300 was spent due to the pandemic.
---
Resource Education Intern Support and Housing  –  $ 229,500
The interns will help lead Parks as Classrooms experiences, staff visitor centers, provide hands-on Junior Ranger programs, provide Ranger-led hikes and programs, create educational programs for digital platforms including SmokiEEEs@home, and create social media content. The interns get an enormous amount of work experience while also providing cost-effective labor. This funding provides a small living allowance and park housing to these young people who come from all over the US and often become future NPS employees.
---
Resource Education Division Staffing Support  –  $ 84,000
These funds will be used to help pay for seasonal employees at Oconaluftee, Sugarlands, and
Cades Cove Visitor Centers throughout the year. These employees provide visitor information, lead public programs, and help supervise interns.
---
Kathryn K. McNeil Education Specialist at Purchase Knob  –  $ 68,300
The Kathryn K. McNeil endowment funds support the education program at the Appalachians Highlands Science Learning Center at Purchase Knob. This program places an emphasis on working with NC schools and youth organizations. (Kathryn K. McNeil Endowment) Note: $68,000 in funds were approved in FY20, but only $30,175 was spent due to the pandemic.
---
Park Liaison with Cherokee School  –  $ 34,700
To fund a coordinator for an educational partnership between the park and Cherokee Middle School as well as introducing curriculum to all gateway community schools in NC through the development of educational trunk materials. The coordinator will develop, implement, and evaluate a planned curriculum used to educate children about the cultural and natural resources of the Smokies. (Cherokee Preservation Foundation Grant) Note: $60,800 in funds were approved in FY20, but only $29,877 was spent due to operational capacity and the pandemic.
---
21st Century STEM Project  –  $ 30,000
These funds will support programs with Swain County Schools and the Boys and Girls Club of the Tennessee Valley. Funds will support transportation, backpacks, and water bottles. (National Environmental Education Foundation Grant)
---
Cherokee Central Schools STEM Education Project  –  $ 8,000
Through this project, park rangers will continue to work with high school science classes in the classroom. This funding will provide support for supplies and materials for field and classroom programs. (National Environmental Education Foundation/Hands on the Land Grant) Note: $8,000 in funds were approved in FY20, but none was spent due to the pandemic.
---
Tremont Support  –  $ 15,000
Support Tremont in their development of new programming designed for virtual experiences during the COVID-19 pandemic. These monies will also help support small-group programming and non-residential opportunities. (National Park Foundation Donor) Note: $30,000 in funds were approved in FY20, but only $15,000 was spent.
---
Teacher Workshops  –  $ 8,000
Funds to support partnership workshops in conjunction with Discover Life in America and the Great Smoky Mountains Institute at Tremont. (Glaxco Grant) Note: $15,000 in funds were approved in FY20, but none was spent due to the pandemic.
---
Teacher Workshop & Teachers in Park (TN)  –  $ 26,000
This grant-funded program includes two teacher workshops for 60 teachers in the summer and fall of 2020 with the teachers agreeing to use park education materials in their classrooms and/or bring their students to the park for field trips during the 2021-2022 school year. Additionally, four "Teacher in Parks" from Title 1 schools with assist with citizen science projects and Junior Ranger programs in the summer of 2021. (Arconic Grant)
---
High School Intern Program (Swain County)  –  $ 2,000
Funds to support 3 high school interns working in the park during summer. Some funds will be used for an end of season "graduation" recognition ceremony. (Swain County Grant) Note: $2,000 in funds were approved in FY20, but none was spent due to the pandemic.
---
Summer Intern Support for MYLES Camp Participants  –  $ 1,500
Partnership with Montreat College to provide education programs. Funds will be used to help support an intern who will work the MYLES camp participants in the summer.(Montreat College Grant) Note: $1,500 in funds were approved in FY20, but none was spent due to the pandemic.
---
Summer Urban Youth Program  –  $ 20,00
In partnership with Asheville Greenworks and the Boys of Girls Clubs of the Tennessee Valley. This project directly relates to the Education branch goal related to relevancy, diversity, equity and inclusion. Funds provide staffing support, urban youth intern stipends and transportation to the park. (YELP) Note: $31,200 in funds were approved in FY20, but only $5,500 was spent due to the pandemic.
---
Junior Ranger Program  –  $ 3,000
Supplies for hands-on Junior Ranger programs
---
VIP Program Supplies for Resource Education Programs  –  $ 6,400
Support for volunteers serving at Sugarlands Visitor Center, Oconaluftee Visitor Center, Cades Cove, and Clingmans Dome. These volunteers provide information to thousands of visitors at some of our most highly used visitor contact stations. They also rove busy trails and help manage traffic. These funds will be used on raingear, sun-protection hats, safety gear, and supplies. Note: $10,000 in funds were approved in FY20, but only $500 was spent due to the pandemic.
---
African American Research  –  $ 19,700
Before this project began, we just had a few small pieces of information but no complete stories. Over the last three years, we have utilized a PHD student and park staff to conduct library research as well as connect with broader communities to discover untold stories. We are expanding the project by contracting with Latria Graham (GSMA Writer in Residence 2019) to assist in getting more information and developing an interpretative product related to the Turner family in Walker Valley. The intent is to be able to incorporate the African American experience in the Smokies into existing and new exhibits, interpretative and education programs and publications.
---
Parkwide Wayside and Bulletin Board Updates  –  $ 27,900
This project is to update and improve the quality and consistency of information available to visitors in park bulletin boards. Many of the current signs are out-of-date and in poor shape. Note: $34,000 in funds were approved in FY20, but only $6,500 was spent.
---
Cades Cove Living History Demonstrations  –  $ 4,200
Support for demonstrators who bring life into the historic structures in Cades Cove through music, blacksmithing, weaving, and storytelling.
---
Oconaluftee Visitor Center Special Events  –  $ 1,000
Support for ongoing Mountain Farm Museum activities throughout the year including blacksmithing, mountain farming, open-hearth cooking, gardening, heirloom apple orchard, and monthly mountain music jams. These funds will also support popular annual events such as Mountain Life Festival and Holiday Homecoming.
---
Experience Your Smokies  –  $ 500
Support for the Experience Your Smokies program which allows participants to go behind the scenes and truly experience the park through hands-on, real-life resource management projects. Participants learn about park wildlife, aquatic life, native and exotic plants, air quality, management, historic preservation and more.
---
E-Bike for Cades Cove  –  $ 1,500
Cades Cove staff utilize bikes to efficiently move to program locations along the Cades Cove Loop Road for programs. This e-bike will allow them an opportunity to get to locations with greater ease and efficiency during heavy traffic congestion. (EYS funds)
Parkwide Volunteer-in-Park Program
VIP Recognition Awards Program  –  $ 1,200
Each year over 3,000 individuals contribute over 150,000 hours of volunteer service with VIPs supporting virtually all phases of park operations. These funds allow us the opportunity to provide recognition to our year-round volunteers in the form of awards such as plaques, belt buckles, and certificates.
---
Artist in Residence Program  –  $ 2,200
Artists have played important part in the formation and establishment of our park. Early writers, photographers, painters, and musicians drew inspiration from these mountains and helped translate their purpose as a place of pleasure and preservation. An Artist-in-Residence supports the opportunity for an artist to live in the park and produce original works of art. In exchange, the artist agrees to donate a piece of work to the park. (National Park Foundation Avent Endowment)
Facility Management
Visitor Amenities
Funding from Friends of the Smokies maintains vault toilets in these popular areas for visitor convenience:
Townsend Visitor Amenities  –  $4,000
Roaring Fork Visitor Amenities  –  $ 15,600
Cataloochee Visitor Amenities   –  $17,500
---
Cades Cove Fencing  –  $ 52,600
Over the last several years, we have repaired or replaced the most critical fences around Cades Cove. We now have 44,000 feet of barbless barbwire fencing, 4,900 feet of locust worm fencing, and 3,200 feet of locust post and stacked rail fencing. These funds will help support 2 seasonal employees who will maintain these fences along with 13 cemeteries and 9 historic structures.
---
Collections Preservation Center Grounds Maintenance  –  $ 21,900
Provide grounds maintenance for the Collections Preservation Center
---
Appalachian Highlands Science Learning Center Operational Maintenance  –  $ 31,800
Provide grounds, custodial, fields, and road maintenance at the Appalachian Highlands Science Learning Center at Purchase Knob.
---
Trails Forever Rehabilitation of Park Trails  –  $ 275,000
These critical funds will continue to support signature trail rehabilitation projects throughout the park. Monies provide for six partial-year trail crew positions and a full-time Trails Forever Volunteer Coordinator who engages volunteers of all ages in hands-on stewardship along the trails. In FY21, the crew will begin the first phase of the Abrams Falls Trail rehabilitation along with additional projects on the Noah Bud Ogle Nature Trail, Oconaluftee River Trail, and Fighting Creek Nature Trail.
Resource & Visitor Protection
Ginseng Protection Program  –  $5,000
These funds support an annual ginseng marking blitz. Thousands of ginseng roots have been marked through this program over the years. Market demands place heavy pressure on this resource from illegal harvesters who poach for profit. This is a very cost-effective way to assist in the deterrence and detection of commercial poaching of this resource at risk.
Cades Cove Volunteer Bicycle Patrol Support  –  $ 2,200
Volunteer-in-Park Bike Patrollers help Resource & Visitor Protection staff manage bike traffic, provide safety information, and assist in managing accident scenes. These funds will help replace safety uniform shirts, bike equipment, and safety gear.
Volunteer Roadside Assistance Support  –  $ 11,700
The Smokies recruits a series of retired law enforcement officers and their spouses to patrol Newfound Gap Road and Cades Cove, providing directions and visitor information, responding to disabled vehicles and lock-outs, and assisting with motor vehicle accidents and bear-related traffic jams. Their presence has substantially freed up the commissioned law enforcement rangers in the park, enabling them to respond more quickly to more serious law enforcement incidents.
Volunteer Storage Shed Replacement  –  $ 7,500
The current storage shed for volunteer supplies for both the parkwide volunteer program and the backcountry trails volunteer program is in disrepair. These funds will be used to purchase a new shed, shelving, and storage organizers to provide safe, efficient access to tools and supplies needed for stewardship activities across the park.
AT Ridgerunner Support  –  $ 50,000
Funds will continue to support the Ridgerunner program. Ridgerunners perform the following vital tasks on the Appalachian Trail: check backcountry permits, educate Appalachian Trail hikers regarding park regulations and Leave No Trace principles, remove a significant amount of abandoned property and trash from the trail and shelters, clean and maintain privies, perform trail maintenance, and submit weekly reports about the state of the trail and shelters.
Search and Rescue Program Support  –  $ 29,000
These funds support a seasonal ranger to oversee the new preventative search and rescue (PSAR) program. This program also includes a coordinated PSAR volunteer program to provide information at various trailheads where we see a consistent number of SARs. The ranger and coordinated volunteers will provide valuable information to hikers about trail safety, trail difficulty, and educate hikers on proper preparation before beginning their hike.
Search and Rescue Safety Equipment and PPE  –  $ 8,000
The park has an interdisciplinary basic search and rescue team that relies of employees from all divisions, including seasonal employees, volunteers, and interns. Basic safety equipment and personal protective equipment is needed to keep these rescuers safe as they help others. Items such as life jackets, leather gloves, ear and eye protection, reflective and high-visibility shirts, etc. are needed to sustain this program.
Advanced EMS/ICS/SAR Training for Tech Rescue Team  –  $ 5,000
The park has no dedicated base funds for Advanced Search and Rescue (SAR), Incident Command System (ICS) training, or Advanced Emergency Services (EMS) program and training. Annually, these programs require funds that far exceeds the division's discretionary limits. The park responds to approximately 100 SARs, several hundred medical emergencies, and manages multiple large-scale incidents utilizing ICS each year. These funds are necessary to ensure the division can adequately plan, prepare, and respond to emergency events. Examples for how this money will be used include advanced SAR training such as swift water and high angle rescue, and incident management training along with purchasing advanced SAR equipment, advanced EMS training and supplies, and maintaining incident management trailers.
Joe Kolodski Scholarship Fund  –  $ 7,500
This support will be used to directly benefit advanced leadership training and development for law enforcement staff in honor of Joe Kolodski who was slain in the line of duty in 1998. The award may also be used to purchase advanced rescue or law enforcement equipment. The scholarship, at the discretion of the Chief Ranger, will be recommended by field staff annually.
Employee Memorial  –  $ 17,000
The park will install memorial on the grounds of the Park Headquarters complex to honor
employees (past and future) who give their lives in the line of duty or in the service of others. Through a previous Friends gift, we have completed the design and have contracted for the fabrication. These funds will be used for the installation and landscaping.
South District Vehicle Carport  –  $ 10,400
The South District Ranger Station experiences an average of 60 inches of rain over 135 days each year causing consistent moisture and mold issues in emergency response equipment and vehicles. These funds will be used to build two pole barns to cover the Search and Rescue Truck, NC Incident Command trailer, NC Search and Rescue trailer, two patrol boats, NC Volunteer Roadside Program Jeep, and multiple patrol vehicles to protect the equipment from the elements.
Parkwide Management
Information Technology Intern  –  $ 2,000
Expand capacity of Information Technology Office by supporting an intern and also providing a mentoring opportunity for future NPS employees.
Special Short-term Park Opportunities  –  $ 75,000
These funds will be used to pursue project opportunities that develop during the year that enable the park to better support employee development, care for park resources, or provide recreational opportunities for visitors. Allocation of these funds will be requested and documented through the Annual Work Plan.
Visitor Experience Stewardship  –  $ 79,250
The park has experienced a 25% increase in visitation over the last decade. This has challenged the park to meet the needs of visitors while simultaneously managing congestion, crowding, and providing quality park experiences that visitors expect. These funds are being used to support facilitated public engagement meetings to develop better understanding of desired park experiences and to identify potential congestion solution pilot projects at some of the most visited places on roads and trails. In FY20, the park completed stakeholder awareness meetings with community leaders and congressional delegates; developed of a set of questions for facilitator at public meetings; developed internal project plan for public engagement process, including key messages and a communications plan; developed online survey to collect public comments on visitor experiences; implemented vehicle-free day pilot project in Cades Cove; and completed a review of park visitor use studies from recent decades, academic studies of visitor behavior, as well as recent visitor use planning efforts. In FY21, funds will be used to host the facilitated meetings, analyze collected data, and develop congestion management next steps including pilot projects. Note: $130,000 in funds were approved in FY20, but only $79,250 was spent due to the pandemic and delayed timeline.
Strategic Operations Planning  –  $ 60,250
The park continues to experience significant fiscal challenges resulting from reduced or flat budgets over the last decade. These challenges are intensified due to growing visitation. The park must reduce spending by approximately $360,000 annually. With most of the base budget going towards salary, this results in the annual reduction of park staffing by four to five employees.
The Park Management team has completed several planning exercises led by the Deputy Superintendent to reduce spending efficiently and maintain sustainable workloads. After going through that process for several years, the park has exhausted efforts in finding obvious spending reductions in a manner that doesn't require a significant reduction in visitor services. These funds will be used to work with a strategic planning team to more fully assess workloads and patterns to identify savings and reductions. In FY20, the park management team has completed the first steps in a thorough workload assessment and will have the first facilitated week-long meeting in late August. Note: $120,500 in funds were approved in FY20, but only $50,750 will be spent due to the pandemic and delayed timeline.
2021 TOTALS
General Projects and Programs  –  $ 1,493,350
Grant Designated Projects and Programs  –  $ 152,200
Endowments (Trails Forever, Kathryn K. McNeil, Avent)  –  $ 345,000
Total FY2021 Park Support Requested from Friends of the Smokies  –  $ 1,991,050