Presented by:
September 24-30 2023
'Plein Air Smokies,' will once again bring 20 nationally acclaimed artists to paint "en plein air" (outdoors) throughout the national park. For the 2023 event, spectators are welcome to watch artists paint, Sept. 24-27. A schedule will be made available online with information special opportunities to see artists paint at Elkmont and Cades Cove.
These one-of-a-kind paintings will be available for purchase first at the ticketed Collectors' Soiree Sept. 29, then at the public sale Sept. 30. Proceeds benefit Great Smoky Mountains National Park (GSMNP).
---
2023 Plein Air Smokies Artists
For the 2023 event, artists were selected through a juror process. Over 100 artists across the country applied and 18 were selected to join last year's Best in Show and Quick Draw winners, for a total of 20 participating artists.
---
Plein Air in Great Smoky Mountains National Park
National Parks provide an inspiring place for artists to paint 'en plein air.' Great Smoky Mountains National Park (GSMNP), located in Eastern Tennessee and Western North Carolina, is "world-renowned for its diversity of plant and animal life, the beauty of its ancient mountains and the quality of its remnants of Southern Appalachian mountain culture." It is America's most-visited national park. Weather and light composition can change rapidly in Great Smoky Mountains National Park so painting outdoors will be a challenge for the artists. Join us for the adventure as these world-renowned Plein Air artists travel to our beloved park to capture the energy and soul of the Smokies!
Proceeds Benefit Great Smoky Mountains National Park
Proceeds from the event will help fund several projects and programs that support the park's efforts to preserve the historic and natural resources of the Smokies while providing a safe, enjoyable experience to millions of annual visitors.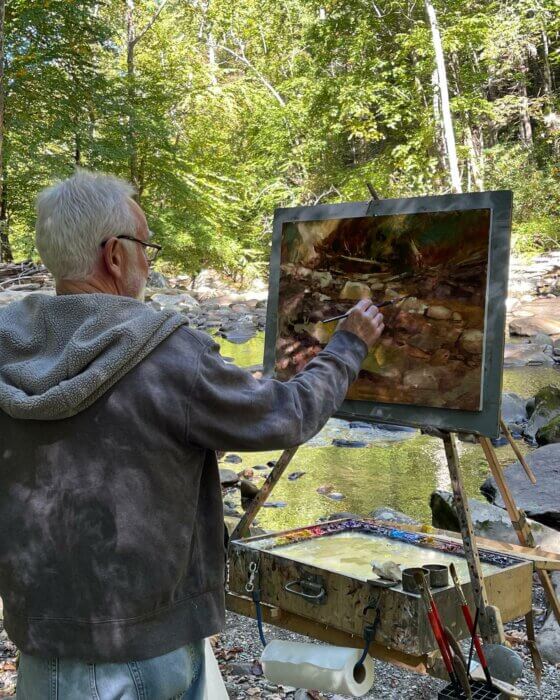 ---
What is 'Plein Air' Painting?
Plein Air painting, in its strictest sense, is the practice of painting landscape pictures outdoors. The purpose is to create intense impression of the open air (French: "en plein air") in a landscape painting.
En plein air painting was essential for the Impressionist Movement to take place. Impressionism is the painting of what the artist interprets as taking place at a certain place at a certain time. It is the changing of the shadows, the shimmering of the water and the movement of people. Impressionists start and finish their paintings outdoors to be able to depict what they would later be so famous for – capturing their impression of life.
---
Sponsorship Opportunities Are Still Available!
Sponsorship provides recognition for your support of Friends of the Smokies and offers additional benefits including tickets to the Collector's Soiree Sept. 29. Learn more about the benefits each level of sponsorship provides.