2020 Bear-Related Projects Funded by FOTS Donations
Support Appalachian Bear Rescue (ABR)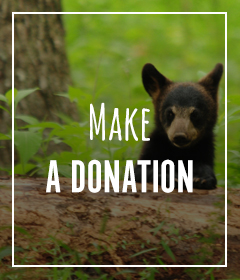 $ 3,000
Each year a number of orphaned or injured park bears are treated and housed in the nonprofit ABR center in Townsend until they can be released back into the park.  Prior to the creation of ABR, most of these animals were euthanized.
Reduce Backcountry Bear Problems with Food Storage Cable Systems:
$8,000
Each backcountry campsite and shelter has a pulley and cable system which campers are required to use to hoist their food and packs out of the reach of bears for the increased safety of both visitors and bears.  Each year a number of these systems are damaged through use or by falling trees and must be replaced.
Bear Management Project:
$4,200
These funds will enable wildlife biologists to purchase new and/or refurbish old black bear GPS radio collars.  These collars will be used when DNA analysis is needed to track bears suspected of a bear attack or other significant human/bear interaction while we wait on confirmation of matches between the attack and the suspect bear.  These collars are also being used for pilot research projects to determine what happens to conflict bears that are relocated out of the park, as well as, the effectiveness of aversive conditioning tools on bears.
Bearwise Digital Messaging:
$5,000
These funds will be used to partner with the Tennessee Wildlife Resources Agency as part of their black bear digital messaging/education program.  In 2019, TWRA targeted the Gatlinburg area for about 3 months and was able to reach nearly 1.8 million visitors using this digital marketing technology.  In 2020, they are looking to expand the program and develop partnerships with other communities including Townsend and Pittman Center.
Cades Cove and Cataloochee Field Management:
$21,500
As a part of our grassland management and restoration efforts in Cades Cove and Cataloochee, fields are kept open by several methods to help provide varied habitats for turkey, coyote, fox, rabbit, deer, bear, elk in Cataloochee, and ground nesting birds such as quail.  Some fields are mowed after nesting season, while others are burned in the gradual process to restore areas to native meadow habitat. These funds help support mowing operations.