by Julie Dodd
The Classic Hikes of the Smokies series, starting its eighth year, offers a way to hike trails in the Great Smoky Mountains National Park, learn about the history and ecology of the park, and to meet other hikers.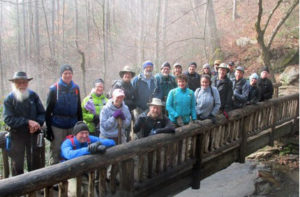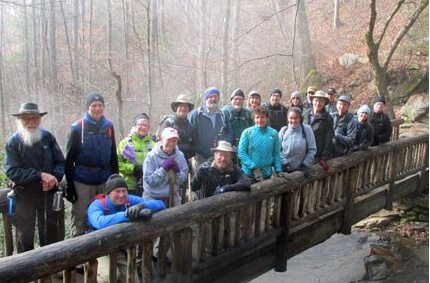 Classic Hikes are held the second Tuesday of the month, from March through December.
The first Classic Hike of 2018 is Tuesday, March 13, at the Deep Creek area of the park near Bryson City. The hike is an easy 5.5-mile loop and includes stops at three waterfalls.
The hike will be led by Gracia Slater, two-time member of the Smokies 900-mile Club and dedicated trail caretaker.
2018 Classic Hikes of the Smokies
March 13: Deep Creek Waterfall Loop
5.5 miles, 600 ft ascent
Features: waterfalls
April 10: Pretty Hollow Gap to Little Cataloochee
8 miles, 1,500 ft ascent
Features: historic structures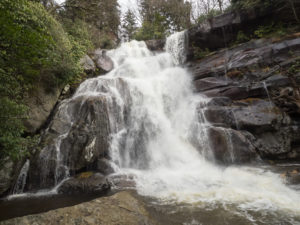 May 8: Ramsey Cascade
8 miles, 2,200 ft ascent
Features: waterfalls & old growth trees
June 11-12: Overnight Experience – Cades Cove
Experience extraordinary Cades Cove on a two-day guided hiking opportunity. Explore classic trails in this part of the special part of the park. Details coming soon
July 10: A.T. and Mountains-to-Sea Trail
7.2 miles, 1,600 ft ascent
Features: mountain vistas
August 14: Bradley Fork to Cabin Flats
9.8 miles, 800 ft ascent
Features: remote creek
September 11: Albright Grove Loop
6.5 miles, 1,400 ft ascent
Features: old growth trees
October 9: Flat Creek Trail
5.2 miles, 700 ft ascent
Features: mountain vistas & Masonic Temple
November 13: Chimney Tops
3.5 miles, 1,300 ft ascent
Features: Trails Forever rehabilitation
December 11: Kephart Prong
4 miles, 830 ft ascent
Features: CCC camp, railroad, fish hatchery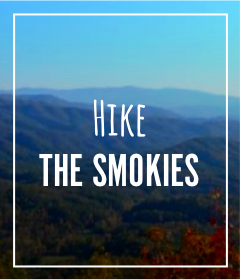 To learn more or register for any Classic Hike visit Hike.FriendsOfTheSmokies.org.
Individual hikes are $20 for current Friends of the Smokies members and $35 for new and renewing members. Funds go to support the Trails Forever program that restores popular trails in the GSMNP.
Hikers interested in registering for the full nine-hike series (excluding the overnight experience) can mail a check for the discounted series registration rate of $160. Checked must be sent before March 1 to Friends of the Smokies, PO Box 3179, Asheville, NC 28802.
The Classic Hikes of the Smokies series is sponsored by Smoky Mountain Living, Mission Health, Diamond Brand Outdoors, Equilibar, HomeTrust Bank, Smoky Park Supper Club, and Leap Frog Tours.
The featured photo is of hikers at the Hall Cabin in the Hazel Creek. The hike was part of a special two-day guided hiking experience at Fontana Lake last August.