Ranger Jim Renfro, Air Resource Specialist for the Great Smoky Mountains National Park, provided information regarding flood alerts and sources for weather information.
These are the flood alert definitions used by the National Weather Service:
A Flood Watch means there is a potential for flooding based on current forecasts.
A Flash Flood Watch means that conditions may develop that lead to flash flooding. Flash flooding is a very dangerous situation.
A Flood Advisory means river or stream flows are elevated, or ponding of water in urban or other areas is occurring or is imminent.
A Flood Warning means that flooding is occurring or is imminent.
Flash Flood Warning means that a flash flood is imminent or occurring in the warned area.
Below are two links to National Weather Service offices that cover the Smokies:
NWS Morristown, Tennessee: https://www.weather.gov/mrx/
NWS Greenville, South Carolina: https://www.weather.gov/gsp/
The two graphics below show forecasted rainfall totals from 7 a.m. Feb. 5 through 7 a.m. Feb. 7.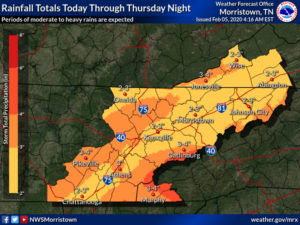 UPDATED rainfall totals for this event from Tuesday through Thursday, Feb. 4-6, 2020:
Park Headquarters – 5.09 inches
Newfound Gap – 6.97 inches
Mount LeConte – 7.04 inches
Finished up with about 4 inches of snow on Mt. LeConte and 2 inches measured at Newfound Gap as of 9 am Friday, Feb. 7.
Most of the park stream and gauged rivers reached minor flood stage on Thursday.
GSMNP road condition information
If you are planning to drive in the Smokies during heavy rain – or other weather conditions, like snow, ice or high winds – you can check road conditions on Twitter @SmokiesRoadsNPS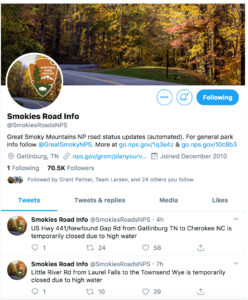 Friends of the Smokies retweets the road condition alerts.