by Julie Dodd
Great Smoky Mountains National Park celebrated the Volunteers-in-Park with a special recognition banquet at the Park Vista Hotel in Gatlinburg.
Approximately 2,050 individuals participated in the Volunteers-in-Park (VIP) program in 2022, donating 104,000 hours of work. More than 320 Volunteers attended the recognition banquet that was held in April.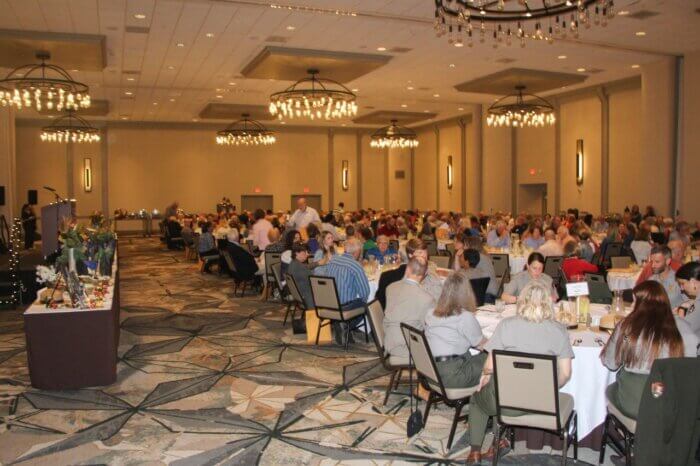 "Whether they gave 12 hours or 1,200 hours during the year, we want them to be recognized. We like to thank Park Volunteers in person," said Sheridan Roberts, GSMNP Parkwide Program Coordinator.
"Our Volunteers' work is huge. They're the heartbeat of the park and a vital part of our workforce in the Smokies," Roberts said. "With so much visitation, we could not offer the quality front-line services and outstanding behind-scene communications without Volunteers."
Great Smoky Mountains National Park (GSMNP) is the most visited national park in the country with almost 13 million visitors during 2022.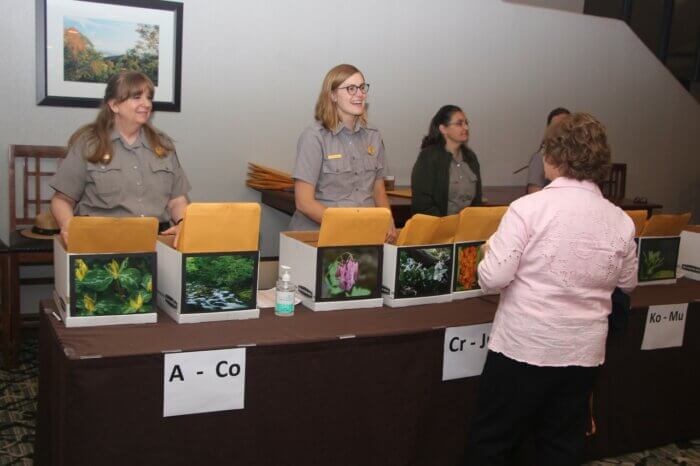 "Without the boots-on-the-ground contribution of Volunteers-In-Park (VIPs), we couldn't maintain the level of interpersonal connectivity we currently do with visitors," Roberts said.
Volunteers fill many different roles in the park, with assignments based on individual skills, interests and availability. Some help with half-day projects on the weekend. Some VIPs drive for miles to get to their service sites – such as those who live in Knoxville and drive to Clingmans Dome or those who live in Asheville and drive to Oconaluftee to talk with visitors about hiking options and safe wildlife viewing.
Importance of recognizing and supporting Volunteers
Friends of the Smokies helps fund many of the Volunteer-in-Park programs, including the Elk Bugle Corps, the Luftee Rovers, Cades Cove Bike Patrol, Trail Volunteers, visitor center Volunteers, and the Volunteer Roadside Assistance program. Friends also helps provide VIP program supplies and funds the recognition awards that are given at the annual VIP Recognition Banquet. Great Smoky Mountains Association fund the cost of the banquet.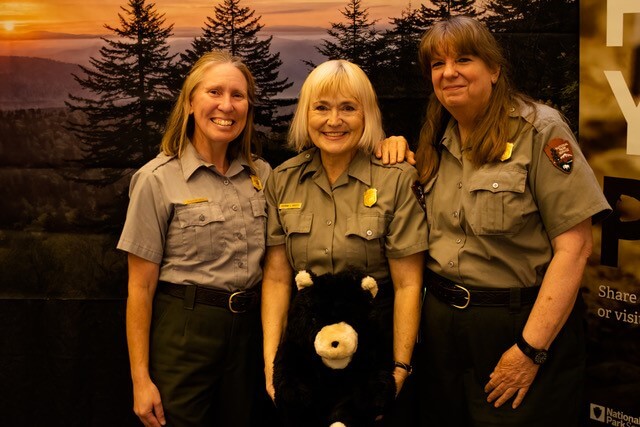 "Recognition is key to retention of Volunteers," Roberts said. "I think the Smokies does an outstanding job of recognizing our amazing Volunteers."
The Recognition Banquet is a highly anticipated event for many of the Volunteers, Roberts said. This year was special because a banquet hadn't been held in the last three years due to Covid. Roberts hosted a number of outdoor recognition activities last year, but those were smaller and more informal events.
Every Volunteer who attended the Recognition Banquet received a certificate and a special photo cube of artwork created by participants in the Artist-in-Residence program, a program that Friends helps fund.
Volunteers receive special recognition based on their cumulative hours of service – 300 hours (special certificate), 500 hours (belt buckle to wear as part of uniform), 1,000 hours (plaque), 2,000 hours (engraved clock), 3,000 years (Gold Award with pin), 4,000 hours (Lifetime Award with watch). At 5,000 hours, the Volunteer receives a unique gift of appreciation each year.
Some Volunteers have worked 10,000 or 20,000 hours. Roberts said that one Volunteer was on track this year to compile 30,000 hours of service to the park.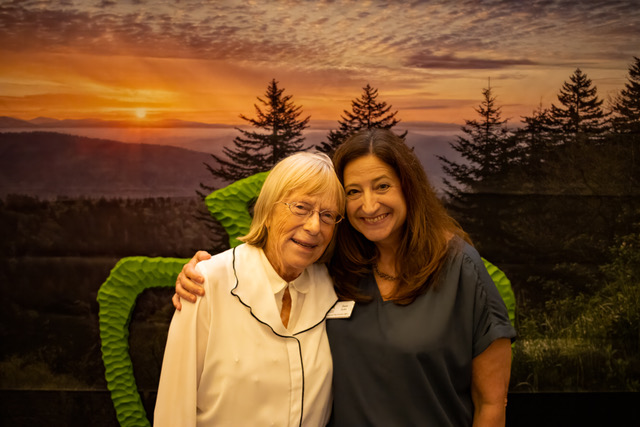 "Being called forward for your award at the banquet is a big deal," Roberts said.
GSMNP Deputy Superintendent Alan Sumeriski presented the awards and shared information about each Volunteer's contributions.
Developing those individual introductions, ordering the awards and making the arrangements for the banquet are part of Roberts' role as Parkwide Volunteer Coordinator.
She serves as the "central office" to provide resources for Volunteers, from uniforms to tools. She compiles the hours from the Volunteers that are reported every fall. Not only does this tracking allow Volunteers to be recognized, these statistics are also used as a basis for requesting critically needed federal monies to support the program annually from the National Park Service's Southeast Regional Office.
VIPs recruit new Volunteers
A satisfied and enthusiastic VIP can be a great recruiter for new Volunteers, Roberts said.
"Volunteers in the field connect with visitors who ask, 'How can I get your job?' After visiting the park, some visitors seek a more immersive way of getting involved and giving to the park," she said.
Some VIPs are retirees who see volunteering as an exciting new phase in their lives. Other student or career-change VIPs see their service-learning experience as giving them an avenue toward a part-time or full-time job in the National Park System.
"Volunteerism can be a fun way to learn, make new friends, build a résumé, and grow your professional network" Roberts said.
Variety of service opportunities
Here is a highlight briefly featuring the contributions of four Smokies VIPs. Their work illustrates a variety of service opportunities in Great Smoky Mountains National Park, as well as the diverse range of talent, interests, and commitment to service by Volunteers-In-Park.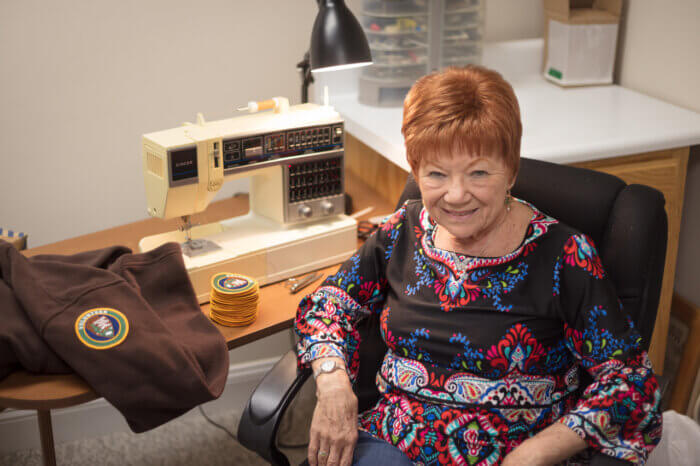 Cindy Metzger-Breeding is the VIP Seamstress. Cindy prepares uniform shirts and other items for Volunteers who serve throughout the park and in all positions. If you've visited the Park and seen or talked with Volunteers, you've probably seen Cindy's handwork – the Volunteer patches on their shirts and jackets.
Roberts said that in addition to sewing on the patches, Cindy "goes a much appreciated and beautiful extra mile" by folding every item perfectly, wrapping it in protective plastic, and labeling the item by size and style.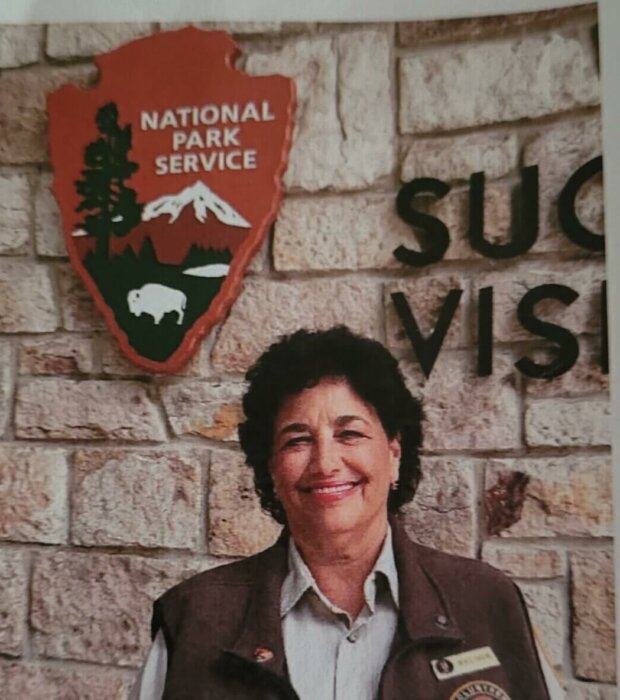 Andrea Carbone has been a VIP since 2010. About five years ago, the Visitor Center Manager asked Andrea if she would be interested in answering the emails that come into the "contact us" section of the GSMNP website.
With growing use of the Park's website, more people than ever are requesting information through the online portal. Andrea said "yes."
Andrea answers the emails once and sometimes twice a week – responding to more than 150 emails each week.
"I thoroughly enjoy it, as it has been a huge learning experience for me," Andrea said.
Andrea said the emails range from requests for planning information for Park visits to complaints to questions from school children doing reports to questions about the wildlife, like "what time do the bears come out?"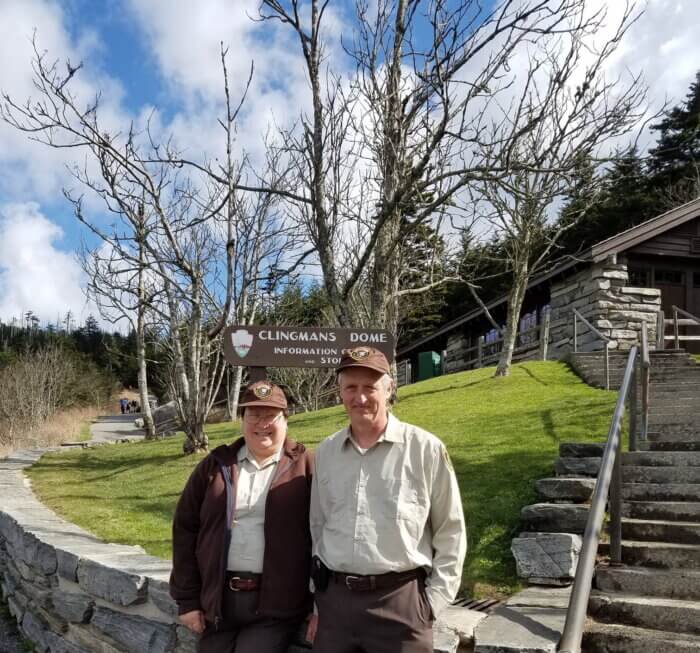 Jayne and Scott Young serve in a number of Volunteer roles. They work the information desk at the Sugarland's Visitor Center, clean up campgrounds and Daisy Town in Elkmont, and help with Litter Patrol Groups that come to the Park to do service work. They collect water samples for the Fisheries Department and monitor two Tree Phenology plots. They rove Laurel Falls and Daisy Town in Elkmont to talk with visitors.
Jayne and Scott also play an important part in helping with the logistics of the VIP Program, Roberts said. They help lead the Parkwide VIP Orientation and conduct training for Volunteers working at Sugarlands Visitor Center, Elkmont and Laurel Falls.
They review the inventory of VIP uniforms and supplies and fill requests by VIPs and supervisors. They enter hours for the Volunteers into the database and assisted with the GSMNP year-end VIP Program Report. They helped plan and organize this year's Volunteer Recognition Banquet.
For information about volunteering in GSMNP, visit Volunteer – Great Smoky Mountains National Park (U.S. National Park Service) (nps.gov) Or request an Information Packet from the Parkwide Volunteer Coordinator: grsm_volunteer_office@nps.gov
---
The group photo at the top of the blog post was taken after the Volunteers in Park Recognition Banquet. In front is longtime VIP Sarah Wightman, who assists with administrative work. Parkwide Volunteer Coordinator Sheridan Roberts is on the left in uniform. Photo by Bob Wightman