The Great Smoky Mountains National Park's Artist in Residence Program provides artists the opportunity to immerse themselves in the park and create art. The program is funded by Friends of the Smokies. Heather Heckel was one of the artists who participated in the program in 2020. Her residency was impacted by COVID-19, limiting her contact with others and reducing her time in the park to one week in July. She shares her experiences in this post. The deadline for applying for the 2022 Artist in Residence Program is March 15, 2022.
By Heather Heckel
GMSNP Artist in Residence 2020
Due to a complication at birth my eyes do not work together. This means that I have no depth perception, and I rely heavily on light, shadow, and overlapping shapes to make sense of our three-dimensional world.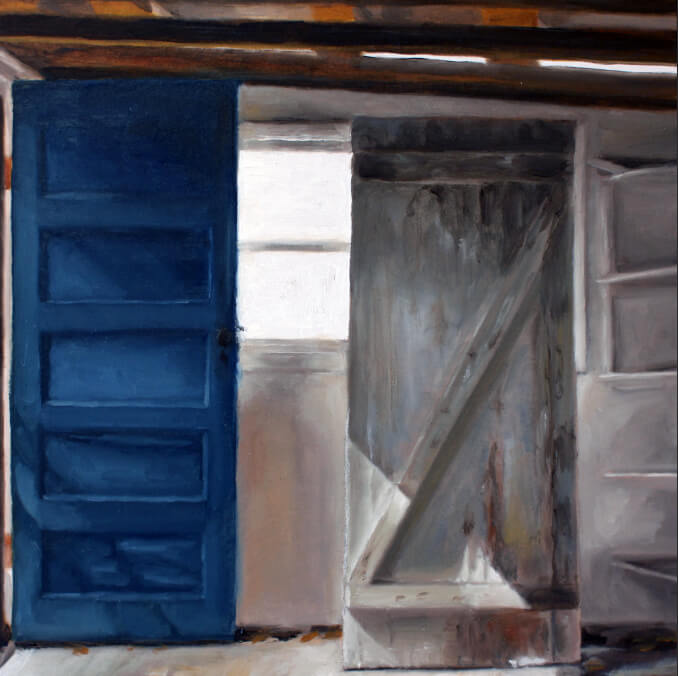 I see everything as a flat image, which allows me to translate what I see to canvas and paper with accuracy and attention to detail.
I love working with oil paint and with colored pencil because they allow for me to precisely depict the details within the objects of my attention.
My mother was an artist, so we always had a lot of art supplies around the house as I was growing up. She let me make giant, creative messes any time I wanted to, so I was given the gift of artistic experimentation at an early age.
Art training
In high school I took every available art class, and earned my BFA in Illustration from the Ringling College of Art and Design in Sarasota, Florida.
I wanted to inspire creativity in others. I earned my Master of Arts in Teaching (MAT) in Art Education from the School of Visual Arts in New York City, and am in my ninth year of teaching public school Art.
During the pandemic, I earned my Master of Fine Arts (MFA) in Painting from the Savannah College of Art and Design online.
Last week I successfully defended my dissertation to earn a Doctorate of Education in Educational Leadership through the University of the Cumberlands. My research focuses on art education and leadership. My dual career as an artist and art educator informs my practice as I inform others.
Adapting GSMNP residency due to pandemic
Socially distancing during my truncated stay in the Great Smokies deepened my understanding of my artistic process and influenced how I share what I know. The pandemic demanded problem-solving.
How do I make this artist residency happen? Drive from New York to Tennessee, stay in a hotel, then finish the artwork at home.
How do I draw and paint what I see? Take a photo for reference.
How do I conduct public presentations and create lessons for my students back home? Record videos and explore online resources.
This time of isolation also infused my thoughts with themes of the pandemic itself.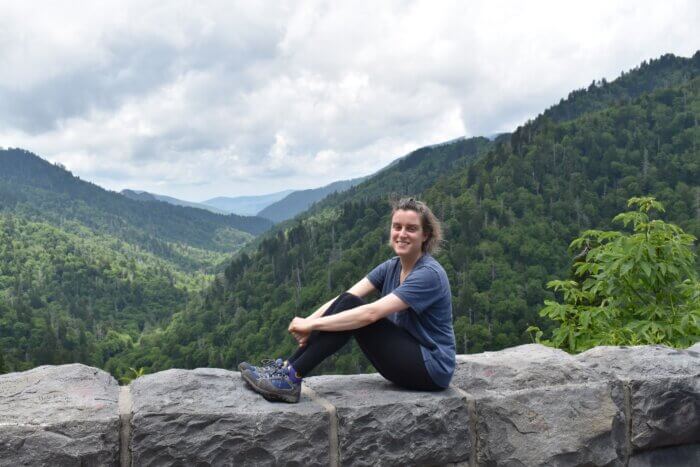 Exploring Great Smoky Mountains National Park
One of the most valuable assets within a National Park artist residency is connecting with the incredibly knowledgeable park rangers, staff and volunteers who have experience in the space you are exploring. It is this human connection that brings a location to life.
I was fortunate enough to spend time with Ranger Sheridan Roberts while at GSMNP, and she provided a wealth of insider knowledge. Our first night in the park forged a lifelong memory. She took us for a hike on a pitch-black trail through the dazzling light show of the synchronous fireflies – it was truly otherworldly.
My week-long stay included biking through Cades Cove, tubing, hiking to Ramsey Cascades, hiking the Grapeyard Ridge Trail, hiking Clingmans Dome, visiting the Townsend Collections Center, and touring the Mountain Farm Museum and Mingus Mill. Throughout my adventures, I collected reference photographs for my artwork.
The Snail Engine drawing (above on left) was a favorite drawing since snails were my favorite animal growing up. Hiking Grapeyard Ridge Trail to find the abandoned engine (included in the artwork) was especially beautiful — it felt like a treasure hunt.
Subjects for artwork
My chosen subjects shared the common thread of being temporarily alone.
My 14 oil paintings are of the abandoned Elkmont cottages, which are slated for renovation. I gravitated to these cottages because they were abandoned, and the isolation of the pandemic echoed their interiors frozen in time. (The painting at the top of the blog is Elkmont Fireplace, oil on board, 8″ x 8″.)
The four colored pencil drawings each depict an animal, an insect, a manmade object, and a plant or fungus surrounded by fireflies. These drawings use abstract shapes to represent the interactions between these various entities and how each one impacts the others.
Diversity of National Parks
To date, I have participated in 14 artist residencies through the National Park Service. (I was awarded my fifteenth NPS artist residency a couple weeks ago at Klondike Gold Rush National Historical Park in Seattle!) What stands out most to me through these experiences is just how diverse these park sites are.
Their distinction from one another extends beyond geographical locations to encompass the flora, fauna, people, and indescribable atmosphere that a place possesses.
I find that the style of my artwork shifts between each residency, not from a conscious decision, but from the overall impact of the time I spent in that particular space. This diversity also applies to within the park itself, especially the Great Smoky Mountains.
The eastern and western sides of the park provide a unique impression, not to mention all the changes that accompany various elevations. It is also a sprawling park of over 800 square miles, which means there are endless details to discover.
The stunning views provided from the mountainous lookouts throughout the park are some of the fondest memories during my stay – a gift for reaching the end of hikes with steep elevation gains.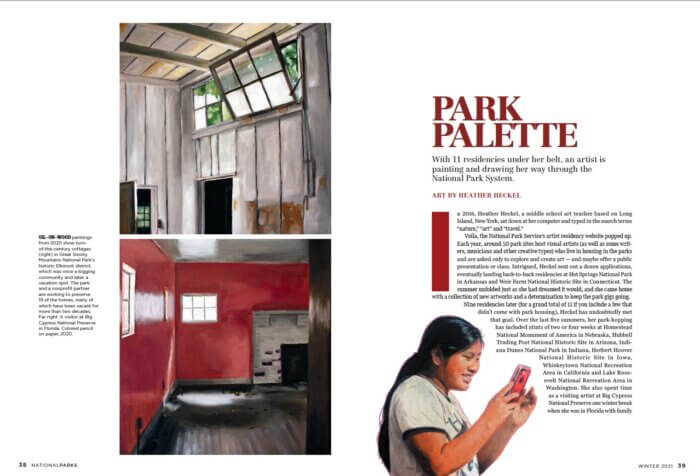 Impact on my teaching
The Great Smoky Mountains residency during the pandemic helped me in my teaching. Trying new things and problem solving are part of the creative process, which I engaged in during the residency, and brought back to my middle-school art students.
I was inspired to have my students travel virtually through the national parks highlighted on Google Arts & Culture by exploring audio and visual information. Students clicked and dragged through 360° imagery while listening to cultural stories and reading about the flora, fauna and unique landscapes found in the national parks.
I now have a greater understanding of what it feels like to create artwork at home in isolation, just as many of my students were doing while they were learning remotely.
Value of Artist in Residence Program
I would recommend this residency to other artists because it provides such an immersive and informative experience of the wild, diverse and inspiring Great Smoky Mountains. The residency provides the opportunity to dive deeply into all that the park has to offer.
Website: www.heatherheckel.com
Instagram: @HeatherHeckelArt
---
---
GSMNP Artist-In-Residence Program Information
The deadline for the 2022 residency program is March 15. Click on the link to read about the GSMNP Artist in Residence Program and the application requirements.
Support The Artists-In-Residence Program
Friends of the Smokies provides the funding for the program, paying for lodging for the artists and up to $300 for art materials. You can support the Artist-in-Residence Program by making a donation.