The Great Smoky Mountains National Park's Artist-in-Residence Program provides artists the opportunity to immerse themselves in the park and create art. The program is funded by Friends of the Smokies. Phoenix was one of the artists in 2019 and shares her experiences in this post. The deadline for applying for the 2021 residency is March 31.
by Phoenix
Fine Art Soul Photographer of Nature and Wildlife
Working at a national park was a childhood dream ever since I experienced Yosemite National Park at 13 years old. I just didn't know it was going to play out by being selected as an Artist-in-Residence at Great Smoky Mountains National Park.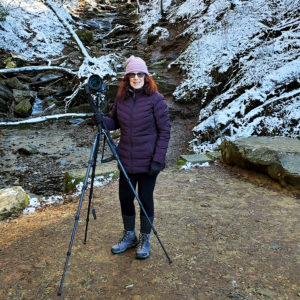 In addition to deepening my enjoyment, inner peace and oneness with nature, the residency provided numerous inspirational opportunities to broaden my art practice, grow my body of work and further my personal mission as a conservation, fine art soul photographer of nature and wildlife.
More than creating beautiful fine art photography, it's always my intent to raise awareness of endangered and threatened species and habitats that we stand to lose in the natural world if we are not careful.
The park's diverse habitats nurtured my soul. It was the perfect environment for my painterly photographic style from sunrise and sunset to twilight and moon rise and even to nightscape photography of the Milky Way. ["Blazing Sunset,"  at the top of the blog post, was taken at Clingmans Dome.]
And, since it was a month residency, I was able to re-visit iconic places to deepen my connection and knowingness of the land and more opportunities to capture the perfect moment in good light.
Gift of focused time and place
Perhaps one of the greatest values to this artist residency was the gift of focused time and place.
The residency allowed an unique opportunity to spend an in-depth time living, breathing and being one with Great Smoky Mountains National Park—virtually 24/7 total immersion.
I was up early each day and went to bed late in the wee hours each night. The time in between was spent photographing landscapes and wildlife from dawn to after dark, scouting for future iconic photo locations, uploading and cataloging photos taken each day, sorting images for the "keepers," post-processing a few images each night and sharing the "Photograph of the Day" on Instagram, Facebook and Twitter.
Additionally, time was spent customizing content for various public engagement programs and workshops and writing blogs on my website.
Once back home this body of work led to the creation of a solo exhibition within a larger exhibition, works juried into gallery exhibits, having a photograph on the cover of a national magazine, articles published in national print and online magazines and video interviews as well as speaking presentations. Additionally, four pieces have sold to date as well as numerous greeting cards.
For me this residency included so many inspiring experiences — from surprises like winter interrupting fall with icicles, hoar frost, snow and black ice (all new for this south Floridian) or turning a corner at Cades Cove to see a deer buck and family right there to interacting with wonderful visitors from all over the world.
Perhaps two of my nature encounters stand out most.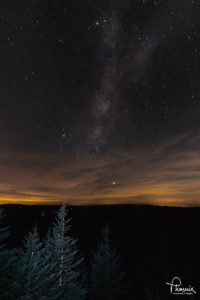 Milky Way
For a few brief moments the magnitude and grandeur of humanities ultimate "home sweet home" blocked out the noise of everyday life as I photographed the Milky Way at the highest point in the park and Tennessee, 6,643 feet above sea level.
I was fortunate working with the AIR Parkwide Volunteer Coordinator, Sheridan Roberts, to plan the start of my residence dates during the last days the Milky Way would be visible in the Northern hemisphere until the following Spring.
The first night I arrived to photograph the Milky Way there were clear skies. However, I wasn't prepared for the bone-chilling, teeth-chattering 12-degree temperatures and high winds at that elevation.
Thankfully, the next two nights the skies remained clear, and this time this native Miamian dressed the part (thermals, two pairs of pants, three tops, a vest and two jackets) to take the long exposure images to capture the moment at the top of Clingmans Dome.
Mist and fog over the Smokies
Then there was the time the weather forecast got it right. It said starting at noon on Friday a front would come in over the greater Great Smoky Mountains area with a 100 percent chance of rain for the next 36+ hours.
And, just like clockwork, it started pouring as I arrived at the top of Grotto Falls. It was noon. Some 29 hours later the rains eased up a bit.
It was my last weekend during my Artist Residency, and I intuitively knew to return to a place I had visited often from sunrise to sunset.
Both the camera on the tripod and I were covered in rain gear for the next hour watching the "smoke" come down lower and lower over the Great Smoky Mountains at Morton's Overlook to capture this decisive moment of clouds, mist and fog over the Smokies.
The Artist-in-Residence at Great Smoky Mountains National Park is an opportunity I would jump to do again.
I couldn't wait to see what I would capture through my lens. Every season brings delightful, transcendent moments to expand the heart of all creatives and nature lovers.
Surely it will inspire art works and opportunities beyond one's imagination. This residency provides an invaluable, concentrated time and space to connect inside and out to expand one's self and body of work.
**********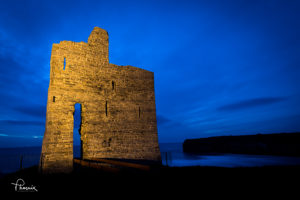 About Phoenix: Phoenix, an internationally collected, award-winning conservation photographer, is the recipient of two Artist-in-Residence programs (Great Smoky Mountains National Park and the Olive Stack Gallery in Ireland), two public art grants, four public art awards and many prestigious art awards. The featured artist for the first Endangered Exhibit – United Kingdom, her works have been honored in numerous juried exhibits, showcased in 20 solo exhibits and featured in magazines and calendars worldwide. Professionally Phoenix is president of the National League of American Pen Women (Fort Lauderdale Branch), is a principal in the Innovative Public Art Group, and was appointed to the Public Art and Placement Advisory Board for the City of Fort Lauderdale. A native Miamian, Phoenix lives and works in Fort Lauderdale, Florida.
Website: http://www.photographsbyphoenix.com/
Facebook: @Phoenix SpiritDiva
Instagram: @PhoenixSpiritDiva
Twitter: @SpiritDiva
LinkedIn
Information about the GSMNP Artist-in-Residence Program: The deadline for the 2021 residency program is March 31. Click on the link to read about the GSMNP Artist-in-Residence Program and the application requirements. For more information, contact Ranger Sheridan Roberts, who coordinates the program.
Support the Artists-in-Residence Program: Friends of the Smokies provides the funding for the program, paying for lodging for the artists and up to $300 for art materials. You can support the Artist-in-Residence Program by making a donation.