This article will be appearing in our Winter 2018-19 issue of ShaConage. Enjoy the sneak peek below and check your mailboxes in the next few weeks!
---
Government Shutdown 2018-19
After funding appropriations lapsed, the federal government entered a partial shutdown on December 22, 2018. The following 35 days, the longest government shutdown in history, bore unprecedented challenges for Great Smoky Mountains National Park, NPS staff, and park partners like Friends of the Smokies and Great Smoky Mountains Association.
At the direction of the federal government, many national parks remained accessible to visitors although no services would be provided during the shutdown. Restrooms, visitor centers, and museums were closed, but visitors were still able to access trails, parking lots, and overlooks.
Thankfully, due to a pre-existing waste management contract and a small army of volunteers with Keep Sevier Beautiful and other groups, trash was still being picked up in the Smokies, so we did not see the piles of garbage build up like at other national parks. However, a different and disturbing problem quickly developed.
There were numerous instances of human waste along trails, near parking areas, and in front of restroom facilities. Besides the obvious indecency, this presented a very real public health issue.
At the request of our park superintendent, Friends of the Smokies stepped in to provide funding to reopen restroom facilities at Newfound Gap and Cades Cove in early January. The following week, GSMA employees reopened and staffed the Cades Cove Visitor Center to provide information to visitors.
On January 13, some park areas including campgrounds and restrooms were reopened using federal funding generated from deed-restricted recreation fees across the park service.
In a statement, P. Daniel Smith, deputy director of the National Park Service, said that the agency was taking an "extraordinary step" by using entrance, camping, parking and other fees that typically are saved for future projects to keep its most visited parks functioning.
With Martin Luther King, Jr. Day approaching, Friends of the Smokies and GSMA agreed to provide additional funding to reopen Sugarlands and Oconaluftee Visitor Centers for the holiday weekend.
This agreement was set to continue, providing weekend openings at park visitor centers through President's Day as the shutdown wore on. Thankfully, a continuing resolution was reached to fund the government for another three weeks, effectively ending the shutdown on January 25, 2019.
Lasting Impacts and Moving Forward
While the park has now re-opened and resumed full operations, by no means is everything back to normal. Seasonal planning, hiring, and winter field work across the park had come to an abrupt halt. Project timelines are now significantly behind schedule, likely affecting park operations for the remainder of 2019.
Visitors can expect delays in the spring opening of park facilities because of the reduced timeline for seasonal staff hiring and project planning. At this time reservations can be made for campgrounds, picnic pavilions, and cabins beginning May 24, 2019. As the park determines the ability to open some facilities earlier, the reservation window will be expanded.
Going into 2019, Friends of the Smokies has already committed to providing more than $2.7 million to support park projects. While these additional expenditures to reopen visitor centers will not affect our overall funding commitment, it remains to be seen how the significant project and planning delays will impact park operations for the remainder of the year.
So while Friends of the Smokies stands at the ready to meet the needs of Great Smoky Mountains National Park, we don't know yet whether or not the park will have the time or seasonal staff to complete the projects showcased on our 2019 Park Support List.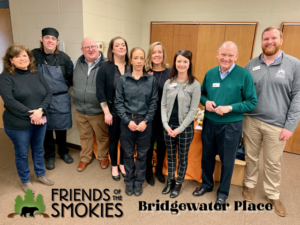 Even while they struggled themselves, our gateway communities in Tennessee and North Carolina were so generous with their offerings of free or discounted meals for park employees, litter pickups, and gift cards for gas and necessities.
We owe a special thanks to the staff at Bridgewater Place for catering a warm meal for furloughed park employees during the shutdown.
For many park employees, this luncheon was the first opportunity they had to check in with their coworkers since the shutdown began and it was an absolute pleasure to see our "park family" laugh and smile with each other during this trying time. Superintendent Cash called it "food for the belly and food for the soul."
Thank you all again for your help during this challenging period. The support from our local communities has meant a great deal to our staff, and we know the park staff appreciate your patience and support as we move forward.