SmokiEEEs at Home is a new website featuring videos and activities that connect students to the park from their own homes. The site launched on April 17 and today, the second phase was published today.
The three 'E's in SmokiEEEs stands for Explore, Entertain and Escape. Today's Phase 2 launch includes a wide variety for students of all ages to engage in the three E's. Students can 'explore' plants, animals, scientific observation, human history and citizen science projects. Activities that 'Entertain' feature drawing activities, coloring sheets, music and stories. The 'Escape section' offers students a video collection of quiet moments in the mountains, like sounds of streams and butterflies pollinating flowers high in the mountains. Today, students can enjoy new video clips of 'Spring in the Smokies.'
New videos and grade-level activities will continue to be added on a regular basis.
Unique learning opportunities at home
The website is an extension of the GSMNP's 'Parks as Classrooms' program. The website connects students of all ages to Great Smoky Mountains National Park's unique learning opportunities at home — both online and outdoors.
GSMNP and park partners collaborated to create online park experiences for students at home. The website is in response to the Coronavirus outbreak (COVID-19) as kids are home from school and unable to take field trips to the park.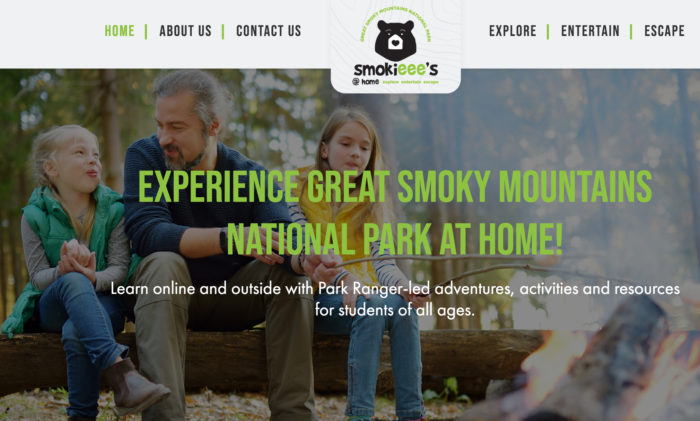 Parent resources and original video content give families an opportunity to take virtual field trips to the Smokies with Park-Ranger led adventures from the program 'Parks as Classrooms,' Great Smoky Mountains Institute at Tremont, and Discover Life in America (DLiA).
GSMNP created the website in conjunction with Great Smoky Mountains Institute at Tremont, DLiA and GSMA, and in partnership with Friends of the Smokies. The site was designed by New Frame Creative, a Knoxville-based small business and supporter of the Smokies.
Explore, Entertain and Escape
SmokiEEE's digital experiences are divided into three categories:
Explore gets kids outside to see what they can discover in their own neighborhood.
Entertain gives students a fun, creative opportunity to open their eyes and ears to the sounds and sights of nature as we celebrate the Smokies and the art it inspires.
Escape offers students a virtual escape to the Smokies for a quiet, captivating moment.
The hope is that the site will be a resource for parents and teachers long after the pandemic.
Posted by Julie Dodd