by Julie Dodd
Social distancing certainly is a concept we are thinking about because of Covid-19. We need to be at least six feet from another person.
But social distancing from wildlife has been an established policy at Great Smoky Mountains National Park for quite some time.
Feeding, touching or disturbing wildlife, or willfully approaching within 50 yards (150 feet), or any distance that disturbs or displaces a bear or elk, is a federal violation and can result in fines and arrest.
"We want visitors to view wildlife but in a way that protects them and the animals," said Bill Stiver, GSMNP Supervisory Wildlife Biologist.
"Bears and elk are wild animals and their behavior can be unpredictable," Stiver said. "They can look docile, but you don't know what they might do.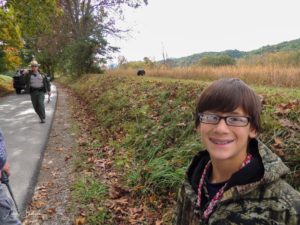 Having people stay 50 yards away is a safety issue for people."
Having people move closer to wildlife can create problems for the animals, too.
"When people willfully approach animals, they don't realize the impact on the animals," Stiver said. "By approaching the animals, the animals may quit feeding, or leave their nest, or abandon their young. The animal may be protecting a food source like a dead carcass, so coming too close can be dangerous to the person. Willfully approaching wildlife does disturb their behaviors."
GSMNP established the 50-yard bear and elk distancing policy after they researched the wildlife viewing policies of other national parks. Fifty yards is half a football field or about 10 car lengths.
"Everybody loves seeing bears, especially the first time," Stiver said. "It's an exciting thing when you see a bear. We want people to enjoy seeing bears but to do it in a responsible way."
Bear jams
Bear jams and elk jams are the terms used when cars back up to view wildlife.
"The big issue is people getting vehicles safely off the road," Stiver said. "They stop their cars only partially off the road or they stop on the road. The car doors are open, and they are not paying attention to other cars. That creates many possible problems, including getting hit by another car."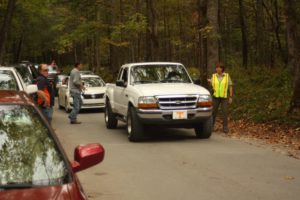 If you are driving and see wildlife that you'd like to watch, drive into a pull-off area if there is one. Park so that your car's wheels are off the road.
Stiver said that pull-offs don't provide space for a lot of vehicles.
"So if people can't find a parking space, they need to move on," he said.
Before the park closed in response to the outbreak of COVID-19, different groups of volunteers provided help with human-wildlife interaction, including volunteers who patrolled the Cades Cove Loop Road to help deal with bear jams.
But the volunteers won't be in the park initially during the phased-in opening, Stiver said. So many aspects of the park have to be phased in, including the volunteers, many of whom are in the high-at-risk age group for Covid-19.
"More responsibility is on the individual because we won't have the volunteers to help manage those human-wildlife interactions," Stiver said.
Storing food, cleaning up after eating
Another important factor in protecting wildlife and keeping park visitors safe is how visitors store and dispose of food they bring into the park.
"It's extremely important to store food correctly and for visitors to clean up behind them, like what they dropped under picnic tables," Stiver said.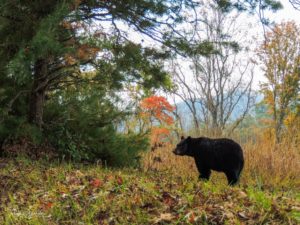 "At night when no one is around, the animals come into a picnic area to check it out. If they are finding part of a hamburger bun or watermelon rinds or a piece of a hot dog, they will come back," Stiver explained.
Another problem occurs when visitors use food to lure animals closer.
"The bears then learn to associate people with food. That's when more complex bear control is required. The bears may try to tear into a tent or get on top of a picnic table or try to break into a car," he said.
"Those are more persistent behaviors. As a result, we have to take some kind of action. We may have to use aversive conditioning. We may have to capture and relocate the animal – or even euthanize the animal."
The person who initially lured the bear with food to get a photo "doesn't see the cumulative effect," Stiver said.
Use bearproof trash containers
"We installed the large dumpsters to make it easier for people to dispose of their trash," Stiver said.
The bear-proof dumpsters are in picnic areas, campgrounds and large parking lots.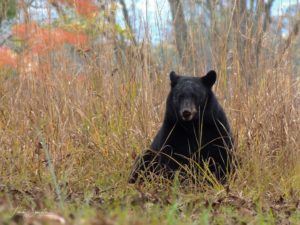 Stiver explained that the park previously used large bearproof trash containers, but those 32-gallon containers weren't adequate for the amount of trash generated by the 12 million visitors that come to the park each year.
Just in the month of July, which is the month with highest volume of trash, visitors generate 120 tons of trash.
Stiver emphasized that the bearproof containers only are bearproof when the trash is inside the container and the lid is closed.
If a trash container is filled and visitors stack trash next to the container or stuff trash into the container so that the lid doesn't close, then the container is no longer bearproof.
So what should you do if the trash container is full?
"Take it back out," Stiver said. Don't stack it next to the trash container.
Bears have incredible sense of smell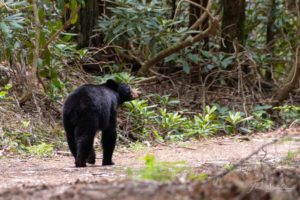 Also, don't think that throwing an apple core or uneaten piece of food into the woods is the way to dispose of food.
Yes, the food may be biodegradable but that discarded food can lead to bears becoming "food conditioned," Stiver said.
"Bears are so smart," Stiver said. Once they find food where people have been, the bears associate people with food.
"Bears have an incredible sense of smell," he said.
Stiver recounted a time when he had to trap a bear at Mt. Le Conte. He used bait around the trap but placed just one cracked open M&M in the trap. The bear went into the trap to get the M&M and was caught.
Tips for keeping yourself & wildlife safe
What can you do as a GSMNP visitor to keep yourself and wildlife safe?
Stiver advised:
Follow the social distancing regulation of not disturbing wildlife or willfully approaching bears and elk closer than 50 yards.
Store your food correctly.
Pick up your trash, especially food scraps.
If you plan to hike, Stiver recommended watching the park's "Day Hiking and Wildlife" YouTube video to learn what to do if you encounter a bear.
Stiver also recommended checking the BearWise website for information that can help individuals and communities that have black bears living nearby to prevent human-bear conflicts.
"This is the time of year when people will see bears. I feel confident visitors have a good chance of seeing a bear during their visit to the Smokies. Visitors need to do their part and behave responsibly," Stiver said.
"It's more important than ever before, in this phased-in opening, for people to remember their responsibility for social distancing from wildlife."