It's not too often that our small organization has staffing changes, but we have some happy and sad news to share.
Holly Demuth has left her position as North Carolina Director at Friends of the Smokies after six and a half years. We are all sad to see Holly go, but we know she will continue to take care of our WNC mountains in her new position at MountainTrue.
Holly has been a driving force for good at Friends of the Smokies, leading the fight to protect our specialty license plate and helping to bring on board our signature NC fundraising event, the Gran Fondo Asheville.
We will certainly miss Holly, but once a Friend of the Smokies, always a Friend of the Smokies so we know she'll still be around. (In fact, she's already signed up for a 6:00 a.m. volunteer shift at this year's Gran Fondo Asheville!)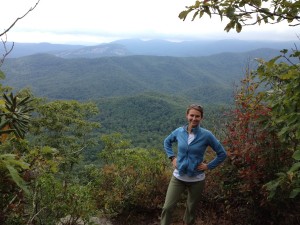 And the happy news is a great new opportunity for Anna Zanetti in our North Carolina office! Anna has accepted a promotion to be our North Carolina Director after serving as Outreach & Development Associate for the past two years. Many of you know Anna (or sometimes Anna Lee) from our Classic Hikes of the Smokies series or the multitudes of other projects she's involved with on the NC side of the mountains. Anna is a powerhouse to say the least and we are thrilled to have her on our team, especially in her new capacity.
Huge thanks to Holly for all her incredible work over the years and congratulations to Anna!
Moving forward, we will be looking to fill Anna's previous position as Outreach & Development Associate to round out our NC contingent, so stay tuned for one more change this spring!
In the meantime, keep up with all the great activities and fundraisers we have planned this year on our Events Calendar, check us out on Facebook, Twitter, and Instagram and we'll see you all in Asheville on Saturday, June 18th for the 3rd annual Gran Fondo Asheville!