by Julie Dodd
Becoming a 900-Miler is quite an accomplishment.
A hiker becomes a 900-Miler by hiking the 900+ maintained trails in the Great Smoky Mountains National Park. That accomplishment takes months and often years to complete.
Nancy "Seal Mom" East and Chris "Pacer" Ford are taking on the challenge of hiking the 900 miles of trails this fall and taking everyone along the journey virtually.  They'll be showing hikers first hand what it takes to properly prepare and train for this Smokies adventure.
A key part of East and Ford's hiking challenge is trying to raise $60,000 for Friends of the Smokies to support the GSMNP's Preventive Search and Rescue (PSAR) program.
East and Ford plan to start their Tour de Smokies on Sept. 4 and now are busy training and planning their hiking schedule.
Extensive hiking experience
East and Ford are experienced Smokies hikers. East has completed two 900 Miler maps, and Ford has completed three 900 Miler maps. (Hikers use the GSMNP map of trails to mark off trails as they complete them. So completing a map means they have completed the 900 miles of trails.) Between them they have hiked all GSMNP trails a total of five times.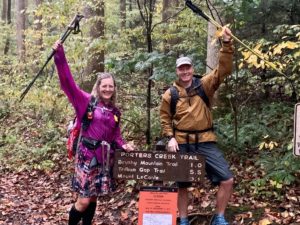 Over the past year, they have logged a combined more than 5,000 miles hiking across the US and Europe.
Ford is a veteran distance thru hiker, completing the Appalachian Trail in 2015 and the Pacific Crest Trail in 2019.
East has hiked for decades in the US and abroad, completing several thru hikes, including the Tahoe Rim Trail, Wonderland Trail, and Tour du Mont Blanc. She also is a volunteer for the Haywood County (North Carolina) Search and Rescue Team.
They completed the Tour de Le Conte on Oct. 24, 2019, hiking all six trails leading to Mt. Le Conte's summit in 16 hours and 13 minutes — covering 45 miles with 22,000 feet of elevation gain and loss.
Their Tour de Smokies hiking effort raised more than $7,000 for the Trillium Gap Trail restoration project through the Friends of the Smokies Trails Forever program. In the process, East became the female Faster Know Time (FKT) holder, and they also set the FKT for a mixed gender team.
Catalyst for Tour de Smokies
So what's behind their decision to take on the Tour of the Smokies this fall and how are they preparing?
FOTS: How did you and Chris decide to take on the Tour de Smokies?
Nancy East: I am a search and rescue team member on the North Carolina side of the park, and the search for Susan Clements was the primary catalyst for the Tour de Smokies. My team took part in this search, and it was a tragic reminder of how things can quickly go awry for a hiker who is not prepared for the ever-changing conditions in the Smokies.  
I was motivated by this tragedy to do more educational outreach in the hiking community, to keep hikers "safe and found."  When I discovered that Friends of the Smokies had a specific line item in their budget to raise funds for preventive search and rescue programs in the park, I came up with the idea to try to hike the park's trails in record time, in an effort to raise money for this cause.
The idea was hatched for me to team up with Chris for the effort while we were on a backpacking trip together in the park with one of their mutual friends and my Search and Rescue (SAR) teammate, Lane DeCost. 
Chris also had ambitions of hiking the park's trails in record time. When I realized this, we began putting a plan in place to tackle the challenge together, while raising the funding for Friends of the Smokies.
FOTS: How are you physically preparing for Tour de Smokies?
Nancy East: We are physically preparing for Tour de Smokies by hiking lots and lots (and lots!) of miles on the park's trails. I recently completed my second map of the Smokies, and Chris his third. 
By incrementally increasing the overall average mileage on day hikes, and stringing together consecutive days of high mileage hikes, we feel it's been the best way to physically and mentally prepare for an endeavor this big while minimizing the risk of injury.
Logistical plans
FOTS: What was involved in designing the hiking plan for completing the 900 miles in a day-after-day and safe approach?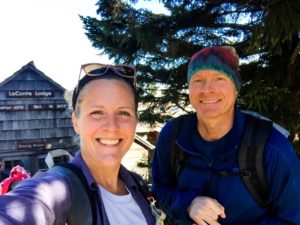 Nancy East: Our logistical plan was primarily created by Lane DeCost, my Search and Rescue teammate and our mutual friend who was on the backpacking trip when the idea unfolded. 
Lane loves a good analytical challenge, so he actually enjoyed the task of unwinding the Gordian knot of Smokies trails, in an effort to keep the routes as efficient as possible. 
He effectively became our "trail boss" in the process and has handled much of the behind-the-scenes logistical needs for us, in addition to creating the routes we will hike. 
After Lane created the routes, Chris printed off enlarged "$1 maps" of the Smokies trails, and we used things like Monopoly game pieces (the National Park version, coincidentally!) to act as mock cars as we talked through each day's hikes, how we'd position cars, and if we would need support from friends and family.
Our home base each night varies, and each night's home base emerged after the hiking routes were finalized.  Friends of the Smokies has been incredibly helpful in helping us find donated lodging in Gatlinburg, when it makes sense to stay on that side of the park. We are also utilizing various frontcountry and backcountry campsites in the park.
FOTS: What's involved in determining your hiking routes?
Nancy East: The planned hiking routes are all considered higher mileage hikes for everyday hikers (over 20 miles), and we both plan to hike, not run, them. They vary in length according to the elevation gain and loss the team will cover along a specific route. Because they are all bound to be long days, the team intends to start early each day.
Most of the routes are one-way, meaning we start and end at different trailheads with minimal backtracking on trails and most string several trails or segments of trails together. Some trails, however, have unavoidable backtracking miles, such as Ramsey Cascades or Spruce Mountain.
Our goal was to minimize the amount of mileage that needed to be walked twice, thereby creating a lower number of total miles hiked by the end of the challenge (and we feel as if we have dialed it in fairly efficiently!).
Role of their support team
FOTS: What is the role of your support team?
Nancy East: The primary role of the support team is to help shuttle cars for Chris and me, if needed. The Smokies' network of trails often entails long driving distances between various trailheads. It's a time-saving advantage to have help shuttling cars or driving the team to a trailhead, eliminating the need to pick a car up after a long day on a hiking route.
Because we know the people who have been entrusted to help with this endeavor, we have no doubt our support team will be a tremendous source of moral support too! Chris' wife, Jamie, will be able to help the team significantly with shuttling needs. Jamie, along with my husband, Larry, have been huge sources of both strength and support for Chris and me throughout the entire training period.
Importance of hiking safety
FOTS: Your hiking fundraising goal is to raise $60,000 to hire seasonal rangers dedicated to teaching visitors about hiker preparedness and hiking safety topics. Why do you consider this to be such an important GSMNP mission?
Nancy East: From my SAR work, I know first hand how many hikers make decisions out of ignorance that quickly put them in life threatening situations. If hikers understand the inherent dangers of the backcountry and enter it with humility, they are much more likely to take what they need and learn the skills they need to stay safe.
Even the shortest and most popular trails can become life threatening to unprepared hikers. Susan Clements' story is a profound and tragic testament to this fact.
If the funding from this effort proactively saves even one visitor's life, it's worth every penny and every step of pain we will walk to raise it.
FOTS: What steps do you typically take to be as safe as possible in your own hiking?
Nancy East: The three steps we take before any hike are as inscribed in our brains as much as the trails of the Smokies, and they're pretty simple:
Always carry the 10 essentials and knowledge of certain vital skills, such as how to build a fire with wet wood.

Notify our spouses of our hiking routes, including what time we predict we'll be on and off trail.

Check the weather forecast for the day of the hike and a few days beyond.
We both also carry satellite devices (the Garmin InReach Mini is our favorite), which allows us to notify authorities of our location, should we become lost or injured, in addition to being able to send messages to our spouses if something goes awry while on trail.
GSMNP's new Preventive Search and Rescue (PSAR) program
Ranger Liz Hall, GSMNP's first emergency manager, said East and Ford's fundraising effort for Preventive Search and Rescue (PSAR) will be important for the success of the program.
"The funds they are raising will be a huge help," Hall said, who started her new GSMNP role in June 2020. "Those funds will go directly to fund two seasonal rangers."
Those rangers will have duties both to assist with Search and Rescue (SAR) and to be part of GMSNP's increased efforts in Preventive Search and Rescue (PSAR).
Hall explained that the rangers will oversee a cadre of volunteers who will be in hiking locations in the park to "help visitors make good choices about their hiking."
Educating visitors about safe hiking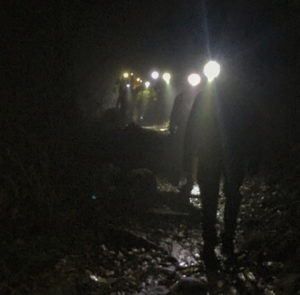 Hall said that not all visitors to the park stop at a visitor center to get hiking information. Having volunteers at trailheads and on the trails can be a way of getting information to visitors about how to stay safe in the park.
She explained that having volunteers and the seasonal rangers on the trails to talk with visitors can help them recognize what's involved in a particular hike and, in some cases, help them modify or change their hiking plans.
"The hike they take needs to line up with the skills they have," Hall said.
The two seasonal rangers who will be funded by East and Ford's Tour de Smokies challenge will be educators on the trail and also will be medical providers trained in ground search and rescue, Hall said.
In case of an injury or a missing hiker, these rangers will be able to help in assessing what kind of search and rescue plan is needed.
Hall is analyzing the park's SAR data from for the last 10 years to use as a foundation for developing the PSAR plan for GSMNP.
Support their Tour de Smokies
We hope you'll virtually follow Nancy "Seal Mom" East and Chris "Pacer" Ford during their Tour de Smokies fundraiser hiking challenge.
Regular updates and photos from their daily hikes will be provided through Friends of the Smokies and Nancy's blog, Hope and Feather Travels, and social media channels.
You can support their hiking challenge and improve safety in the park for all hikers by making a donation on FOTS website or on the Facebook fundraiser page.
When you hike, be sure to carry The Ten Essentials recommended by the National Park Service.
Tour de Smokies Sponsored by