by Josh Shapiro
Trails Forever Crew Supervisor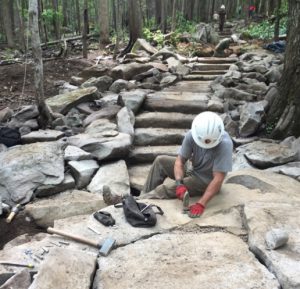 2017 was a productive year on Rainbow Falls Trail.
The NPS Trails Forever Crew consisted of nine members and worked alongside a 12 person ACE Crew along with Wednesday volunteer crews.  In all, volunteers donated 900 hours of work this year.
Work started at the parking area, and the crew worked up the trail.
The crew constructed a 390-foot turnpike to better define the trail from the parking lot.
We also installed trail signs to help hikers better find their way to Rainbow Falls, Trillium Gap, Bullhead (currently closed) and Old Sugarlands Trails.
We rehabilitated all of the social trails in that area. Social trails are the short-cut trails that hikers have bushwacked rather than staying on the designated trail. With the turnpike, there is now a well-defined trail.
Before and After views of the trail

The crew worked up the trail removing rocks and roots from the trail tread, removing hazard trees (those that might fall onto the trail), constructing drainages, and constructing stone and locust staircases.
We are trying to keep trail structures (like stairs) to a minimum.  We are attempting tread (trail) repair first, but, if grade of the trail is too steep and erosion will occur, we are adding structures.
Trail work planned for 2018

For 2018, the trail will be closed from Monday through Thursday, from early May to mid-November (dates not set yet) for trail work.  The crew will be focusing on the trail above the two-mile point.
When the trail is finished up to Rainbow Falls, we will continue to work on the trail all the way to Mt Le Conte.
Most of the major trail deficiencies are from the trail head to Rainbow Falls.  The section of trail from Rainbow Falls to Mt. Le Conte won't require the same level of work as the upper part of Alum Cave Trail.
We will have an ACE Crew working alongside the NPS Crew. We left a few lower sections untouched and will be seeking the help from volunteers next year to help rehabilitate those sections.
***
Friends of the Smokies established the Trails Forever endowment in 2012, thanks to a matching gift from the Aslan Foundation in Knoxville.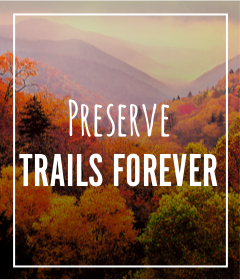 Today, the endowment has grown to more than $5.7 million and funds a full-time trail crew in Great Smoky Mountains National Park to reconstruct and rehabilitate some of the park's most impacted trails. Learn more about contributing to the Trails Forever endowment by clicking below:
In addition to the restoration work on the Rainbow Falls Trail,Trails Forever Crews have restored Alum Cave Trail, Chimney Tops Trail and Forney Creek Trail.