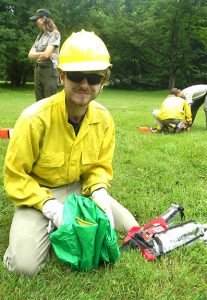 by Matthew Sullivan
GSMNP Intern
Cape Fear High School (Fayettesville, NC) graduate
Student in the Oconaluftee Job Corps Center, Cherokee, NC
Fire is one of man's oldest enemies, but it can also be a useful tool for our success. We can use it for various daily activities such as cooking, making crafts, and blacksmithing, but it can be used for keeping a forest healthy as well.
In the Great Smoky Mountains National Park prescribed burns are used to restore the landscape to a more natural state. An interesting aspect of wildfire is that some plants and animals need fire to survive.
When vegetation grows unregulated by natural fire events, fire dependent plant species can be overwhelmed by species that do not require fire to thrive.  An overabundance of a few species can ruin habitat for animals and prevent other plant species from getting seeds into the ground.
Examples of fire dependent species include the table mountain pine and red-cockaded woodpecker.  The table mountain pine tree needs fire to open pinecones and drop seed. The red-cockaded woodpecker that lives in the southeast United States needs fire to survive as a species because of the open understory this species prefers.  The suppression of wildfire over the last hundred years has allowed the open understory to become overgrown, eliminating the habitat of the red-cockaded woodpecker.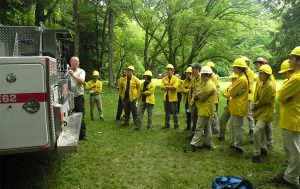 With fire, unexpected things can happen. That is why the National Park Service and community fire services have wildland firefighters to control and put out fires if necessary.
Being a wildland firefighter requires a high level of physical fitness.  Wildland firefighters may work up to 16 hours a day and often have to cover very difficult terrain.
To qualify to be a wildland firefighter, you must be able to pass a series of tests. One of those tests is the pack test. Applicants must wear a 45-pound weighted vest and walk three miles in under 45 minutes.
After passing the arduous pack test, wildland firefighter applicants must participate in the NIMS (National Incident Management System) Training Program and pass online tests.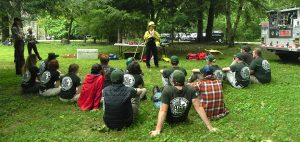 If you successfully complete those, you will receive a "Red Card" (officially known as an Incident Qualification Card) that indicates you're qualified to work on wildfires. There is a lot to it and it takes real dedication to become a wildland firefighter.
Wildland firefighters are required to have Personal Protective Equipment (PPE), which includes having gloves, a hardhat, Nomex flame-resistant clothing, leather boots, a first aid kit, and a fire shelter. The fire shelter is a lightweight, protective shelter a firefighter uses for protection if surrounded by fire.
As interns we participated in a wildland fire-training day. An important part of the training was learning how to roll out a hose properly.  We donned our PPE and put our hose rolling skills to the test in hose laying relay races to see how fast we could accomplish each task while working together as a team.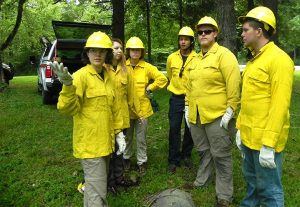 One task was to get a sponge out of a bucket without using our hands, only the water rushing out of the fire hose.  We also had to unpack and get into our fire shelters in less than 30 seconds.
After we got done doing those exercises, we practiced building a fire line. A fire line is a trench dug into the ground that is designed to prevent the fire from progressing beyond the fire line.  Digging fire line was hard work and took a lot of energy to do.
After that, we watched a presentation on prescribed burns and then we worked together to plan a prescribed burn, including deciding what tools and resources we would need and how to best use those tools and resources.
All in all, it was an exciting experience.  I would recommend this type of training to anyone who loves fire.  I'm enrolled in the forestry firefighting program at Job Corps and am primarily studying wildland firefighting.  I love the outdoors and the idea of making a difference whether small or extraordinary through firefighting.
---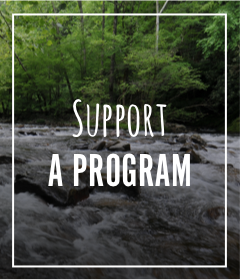 This is the third in a series of blog posts by high school students participating in the Great Smoky Mountains National Park Summer Internship Program. This summer, 19 students are participating, representing high schools in North Carolina and Tennessee that are near the Great Smoky Mountains National Park.
The program is funded by both the Youth Partnership Program and Friends of the Smokies. FOTS has supported the program for 16 years, initially providing the salaries for the interns and now funding the program staff salaries.
The program is designed to give the interns a little taste of a variety of activities that rangers are involved with – from fisheries science to botany to forest and stream ecology. The interns gain an understanding of how the park is managed and are introduced to possible career opportunities.
In the first blog post, Hannah Ensley introduced the high school internship program.
In the second blog post, Nicole Welbourn explained how stream inventories are conducted.