by Julie Dodd
More than 700 runners and walkers completed the Cades Cove Loop Lope on Nov. 3, 2019.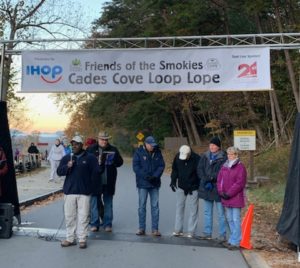 The Loop Lope was a sold out event and raised more than $99,000 for the Great Smoky Mountains National Park.
Participants braved the frosty temperatures and participated in the 10-mile race, the 5K run or walk, or the fun walk.
The 10-mile race began at 7:30 a.m., and the 5K began at 7:35 a.m. Cades Cove Loop was closed to traffic until 11 a.m.
In the 10-Mile Race, the top male finisher was Nathan Mize, of Seymour, Tennessee, finishing in 1:04:22. The top female finisher was Catherine Slayman, of Beach City, Ohio, 1:14:17.
In the 5K run, the top male finisher was Dave Roberts, of Cincinnati, Ohio, in 22:42. The top female finisher was Krista Partin, of Kodak, Tennessee, in 26:44.
You can read the race results on A Matter of Timing.
The first Loop Lope was held in 2010 when the Cades Cove Loop had been closed for repaving. The race was considered to be a one-time event but was restarted in 2017.
Runners also had the option of registering for the Virtual Race, running the race distance at a location and time of their choice.
You can read UK sports writer Larry Vaught's blog post about his race experience.
Thanks to Mary Kay Godbey, Harold Hamilton, Robin Jenness, Kristi Parsons, Bobbie Perkins for their race photos.
Race photos by Harold Hamilton