by Julie Dodd
A hike that starts as a fun activity can turn into an emergency situation because of a fall, requiring a rescue team to carry the hiker back to the trailhead.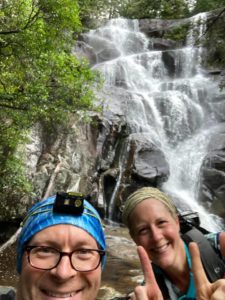 Every year, Great Smoky Mountains National Park makes more than 100 search and rescues to assist injured or lost hikers.
Experienced hikers Nancy "Seal Mom" East and Chris "Pacer" Ford are on the trail now with the goal of raising $60,000 for GSMNP's new Preventive Search and Rescue program.
The program will help visitors to the park make better decisions about which trails to hike and how to be better prepared for their hikes, according to Ranger Liz Hall, GSMNP's new Emergency Manager.
East and Ford are in Week Two of their fundraising Tour de Smokies, hiking all 900 miles in GSMNP. Between the two of them, Nancy and Chris hiked 7,500 miles in the last 18 months as they prepared for their Tour de Smokies.
We hope you'll donate to their hiking journey to support GSMNP Preventive Search and Rescue and make hiking safer for all park visitors.
East, a member of Haywood County Search & Rescue, is providing hiking safety tips while they hike. (See the post on hike planning and navigation tools.)
Selecting footwear for hiking
FOTS: According to the data collected about GSMNP search and rescues, the number one cause for a search and rescue is orthopedic injuries. What advice do you have about footwear?
Nancy East: Just like shoe sizes, hiking footwear is not "one size fits all."  Each person's foot is unique, and what works for one person may cause major issues in other people.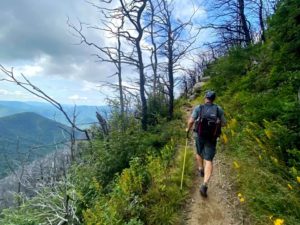 The biggest takeaway I can offer is to purchase shoes from a reputable brand and try lots of different shoes on before making a decision. Even then, you may not get it right the first time and need to change to a different style of brand. 
Some outdoor retailers, like REI, offer a one-year, no-questions-asked return policy. For a hiker fine-tuning the right pair of shoes for his or her feet, this can be a huge advantage.  
One thing I would caution against for most hikers is waterproof shoes. While they may help keep your feet dry with some amount of water exposure, they will stay wet (and heavier) much longer than non-waterproof shoes usually be hotter too, which can cause more issues. The only time I might use waterproof shoes is in the winter when the stakes are higher with cold and wet feet.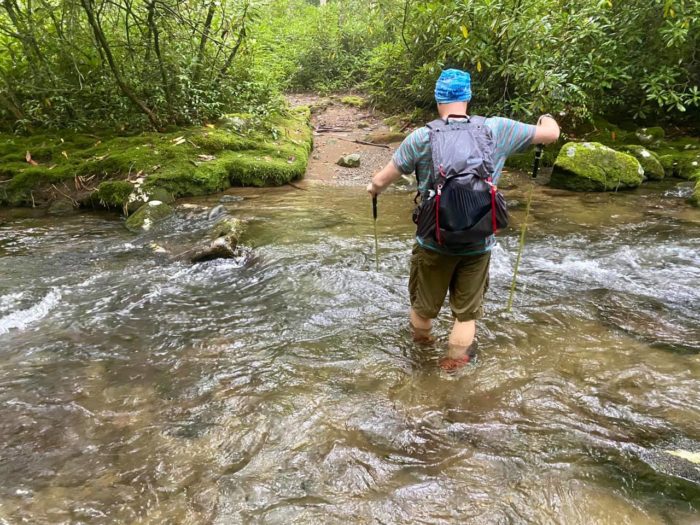 Socks are another personal choice, but my universal recommendation for socks is to avoid cotton. 
Chris and I both love socks made from merino wool. It isn't itchy, it wicks water away from your skin, and even retains warmth when wet. I wear Injinji socks, which are toe socks. They are excellent at preventing blisters between my toes (and you get used to the feel of toe socks very quickly). Chris wears Point6 socks.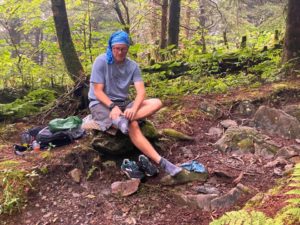 Chris and I both wear gaiters, which are coverings that go over your shoe and end at your ankle.  They keep debris like leaf litter and small pebbles from getting into your shoe and causing discomfort.
FOTS: Do you carry an extra pair of shoes on big hikes?
Nancy East: If I'm backpacking, nothing feels better than a pair of "camp shoes" to change into at the end of a long day on trail. On day hikes, I wear trail runners (Altra Timps), and I typically don't bring an extra pair of shoes. 
If we cross streams, I just wear my hiking shoes.  Chris is tougher than I am and doesn't bring extra shoes on any hikes!
FOTS: Why is it important to break in a pair of boots before a big hike?
Nancy East: If boots are what works best for an individual hiker, they're fairly very stiff when new.  It's best to let your feet get used to the feel of them before heading out on a hike, to avoid blisters or other foot-related problems. 
Since I hike in trail runners predominantly, I can wear new shoes without a break-in period.  
Using hiking poles
FOTS: How do hiking poles help hikers avoid injuries?
Nancy East: Hiking poles essentially create four-wheel drive for hikers! They help power hikers up hills more efficiently as well as take some degree of the load off of joints while hiking downhill.  
Hiking poles also prevent slips and falls. I've caught my own falls countless times with my poles, and they provide me with much more balance.  During stream crossings, this is especially important.
FOTS: How do trail conditions affect hiking safety?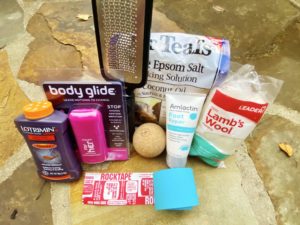 Nancy East: Trail conditions are a huge factor in hiking speed and safety. Something as simple as an overgrown trail in summer can become a major hazard, especially in regard to orthopedic injuries, which is one of the biggest reasons hikers need assistance in the backcountry.  
Trails become especially hazardous when wet, primarily because it creates super slick surfaces on rocks and roots. Even after a rain, rocks and roots can remain slippery, simply from the thick humidity of the Smokies.
FOTS: Why is it important to stay on the designated trail?
Nancy East: Unless there is an obstacle on a trail preventing someone's safe passage, like a fallen tree, it's best to stay on it. Traversing terrain off trail is an easy way to get lost, but it also can create opportunities for more injuries.  
It's also advised to not cut switchbacks, to create a shorter route. It quickly creates a scar on the landscape and encourages others to take the same path. It also promotes erosion, which then leads to poor trail conditions.
Support Nancy and Chris' Tour de Smokies
You can support Nancy and Chris' hiking journey and improve safety in GSMNP for all hikers by making a donation on FOTS website or on the Facebook fundraiser page.
Your donation can help Nancy and Chris make progress toward their goal of raising $60,000 for GSMNP Preventive Search and Rescue program.
You can virtually follow Nancy "Seal Mom" East and Chris "Pacer" Ford during their Tour de Smokies fundraiser hiking journey.
Regular updates and photos from their daily hikes will be provided through Friends of the Smokies and Nancy's blog, Hope and Feather Travels, and social media channels.
When you hike, be sure to carry The Ten Essentials recommended by the National Park Service.
Tour de Smokies Sponsored by