Great Smoky Mountains National Park has been recognizing volunteers in the Resource and Visitor Protection division throughout National Park Week. Volunteers are critical in helping the park keep people and wildlife safe.
You can make a special donation to honor park volunteers for #NationalParkWeek. Donate HERE and select "Volunteers-In Parks Program." Friends of the Smokies supports volunteer programs by funding things like uniforms, safety gear and program materials. The 2021 list includes:
Cades Cove Volunteer Bicycle Patrol Support $ 2,200
Volunteer-in-Park Bike Patrollers help Resource & Visitor Protection staff manage bike traffic, provide safety information, and assist in managing accident scenes. These funds will help replace safety uniform shirts, bike equipment, and safety gear.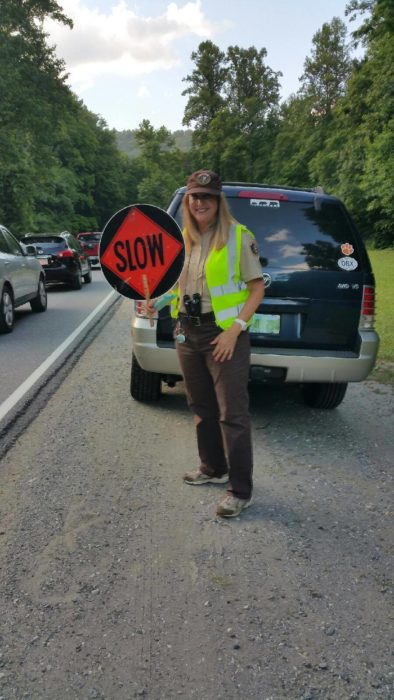 Volunteer Roadside Assistance Support $ 11,700
The Smokies recruits a series of retired law enforcement officers and their spouses to patrol Newfound Gap Road and Cades Cove, providing directions and visitor information, responding to disabled vehicles and lock-outs, and assisting with motor vehicle accidents and bear-related traffic jams. Their presence has substantially freed up the commissioned law enforcement rangers in the park, enabling them to respond more quickly to more serious law enforcement incidents.
Volunteer Storage Shed Replacement $ 7,500
The current storage shed for volunteer supplies for both the parkwide volunteer program and the backcountry trails volunteer program is in disrepair. These funds will be used to purchase a new shed, shelving, and storage organizers to provide safe, efficient access to tools and supplies needed for stewardship activities across the park.
AT Ridgerunner Support $ 33,000
Funds will continue to support the Ridgerunner program. Ridgerunners perform the following vital tasks on the Appalachian Trail: check backcountry permits, educate Appalachian Trail hikers regarding park regulations and Leave No Trace principles, remove a significant amount of abandoned property and trash from the trail and shelters, clean and maintain privies, perform trail maintenance, and submit weekly reports about the state of the trail and shelters.
Search and Rescue Program Support $ 29,000
These funds support a seasonal ranger to oversee the new preventative search and rescue (PSAR) program. This program also includes a coordinated PSAR volunteer program to provide information at various trailheads where we see a consistent number of SARs. The ranger and coordinated volunteers will provide valuable information to hikers about trail safety, trail difficulty, and educate hikers on proper preparation before beginning their hike.