by Julie Dodd
Happy Birthday to the National Park Service!
Every August 25, the National Park Service celebrates its Founders Day, recognizing the date in 1916 when Congress established a new agency to conserve and protect the national parks that had been created.
Today, the National Park Service includes 401 national parks, including the Great Smoky Mountains National Park.
I was able to experience a part of the history that led to the establishing of the National Park Service while exploring Yosemite National Park last May.
Hike to Bridalveil Falls in Yosemite
I had just done the short hike to the base of Bridalveil Falls and enjoyed the cool spray from the falls. After walking to another location to get a different angle for a photo of the falls, I saw an information plaque and stopped to read it.
This was the location where in 1903 Sierra Club President John Muir and President Theodore Roosevelt had camped one night during a three-day wilderness trip in Yosemite. Around the campfire that evening, Muir made the case for preserving natural areas, including the Yosemite wilderness.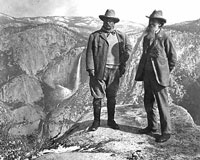 The PBS site for Ken Burns' film "The National Parks: America's Best Idea" says: "Muir's three-night camping trip with President Theodore Roosevelt in 1903 could be considered the most significant camping trip in conservation history."
Muir's efforts with Roosevelt and California officials led to the Yosemite area being turned over to the federal government.
While president, Roosevelt signed legislation to create five national parks (including Yosemite), 18 national monuments, 150 national forests, and 55 national bird sanctuaries and wildlife refuges.
Creating those natural areas as national parks, monuments and wildlife refuges established the concept of natural areas being preserved for public use and for future generations.
Standing where Muir and Roosevelt had camped and talked, I was inspired not only by the beauty of Yosemite Valley but inspired by the efforts of individuals, of conservation-focused organizations (like Friends of the Smokies), and of state and national officials to preserve areas like Yosemite and the Smokies so that we can enjoy them as natural areas.
What's a big idea that you've talked about while hiking or camping. Be sure to include the location of the conversation.