by Julie Dodd
Great Smoky Mountains National Park Superintendent Cassius Cash initiated a program last fall to respond to social unrest across the country in 2020.
The park recently released a video that shares highlights from the Smokies Hikes for Healing program.
"I felt called to share"
"As an African American man and son of a police officer, I found myself overwhelmed with the challenges we faced in 2020 and the endless news cycle that focused on racial unrest," said Supt. Cash, the first African American superintendent of GSMNP.
"My medicine for dealing with this stress was a walk in the woods, and I felt called to share that experience with others. Following a summer hike in the park, I brought together our team to create an opportunity for people to come together for sharing, understanding, and healing."

The Smokies Hikes for Healing program enabled 60 people to participate in one of eight hikes from August through December across the park in North Carolina and Tennessee. Up to ten participants were part of each hike. More than 200 applications were received for the opportunity.
The Smokies Hikes for Healing program provided the opportunity for people to have open conversations about race, diversity and inclusion.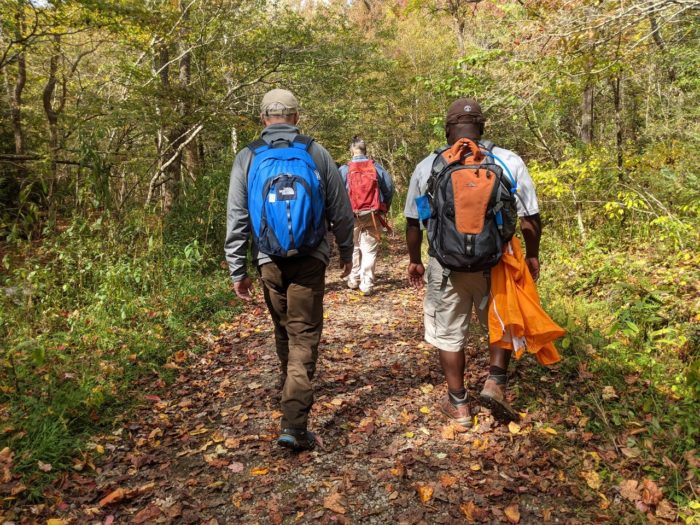 Supt. Cash led each hike and was joined by trained facilitators – David Lamfrom, Stephanie Kyriazis and Marisol Jimenez – who helped create a brave space for conversations about diversity and race.
The park created a Smokies Hikes for Healing website that provides resources about diversity.
"Guide for Independently-Led Smokies Hikes for Healing" is a handout that can help individuals wishing to lead their own hikes centered around racial dialog – for friends, family, co-workers or community members.
The guide includes potential opening words, suggested group guiding principles, key concepts with definitions, and possible story circle questions.
"This was the beginning point of our journey," Supt. Cash says in the video about the program. "It showed us that we all can make contributions to making our communities better, our workspace better, and our world better for everyone."
Park partners played important roles
Longtime park partner Great Smoky Mountains Association assisted in the creative development of the program and website, along with additional financial support from Friends of the Smokies and New Belgium Brewing Company.