by Julie Dodd
A special ceremony at Trillium Gap Trail on Nov. 10, 2020, reopened the trail after after two years of trail restoration. At the ceremony, Friends of the Smokies donated a new fully-equipped Search and Rescue truck to the park.
GSMNP Superintendent Cassius Cash cut the ribbon at the trailhead with the assistance of FOTS board of directors chair Sharon Miller Pryse. (See photo at the top of this post by Bruce McCamish.)
Truck to support Preventive Search and Rescue Program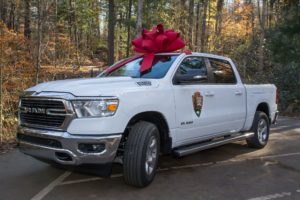 The truck will be driven daily by the park's new Emergency Manager, Liz Hall, who is working to build a new Preventative Search and Rescue Program (PSAR).
The program includes staffing trailheads where SARs frequently occur and providing valuable information to hikers about trail safety, the level of difficulty and proper preparation.
Hall will transport seasonal employees and volunteers to those locations. When a SAR is necessary, the new truck has the capability of hauling the new Incident Command Trailer, which was also provided by Friends of the Smokies.
FOTS board member Mellisa White and her son Adam White, who owns Secret City Chrysler Dodge Jeep Ram, worked with FOTS to find exactly what the park needed within their budget.
"My son Adam and I were humbled to work through his company to assist in providing a RAM truck that will help rangers and volunteers keep folks safe on our trails and throughout the park," she said.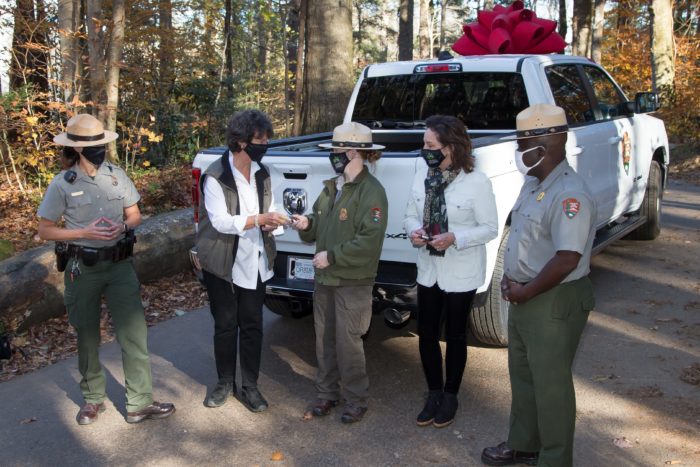 Remarkable year of FOTS fundraising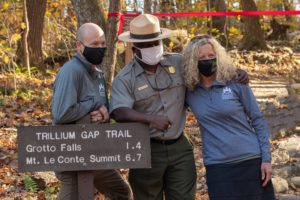 "We are so grateful to Friends of the Smokies for a remarkable year of fundraising on behalf of the search and rescue program," said GSMNP Chief Ranger Lisa Hendy. "The new truck is the latest piece of the puzzle as we work together to keep our visitors from becoming injured in the backcountry, and responding effectively and professionally when some of them do."
Hikers Nancy East and Chris Ford were recognized at the ceremony for their fundraising for FOTS. In fall 2019, they completed a Tour de Le Conte – a continuous hike of all five trails to Mt. LeConte – as a fundraiser for the Trillium Gap Trail restoration.
In October 2020, East and Ford completed a Tour de Smokies, hiking all 900 miles in the park, as a fundraiser for the park's Preventive Search and Rescue program. Their efforts in both hiking ventures raised more than $40,000 for GSMNP.
Trillium Gap Trail – one of GSMNP most popular trails
Trillium Gap Trail is one of the most popular trails in the park, not only used by hikers but by the llamas that transport supplies to LeConte Lodge.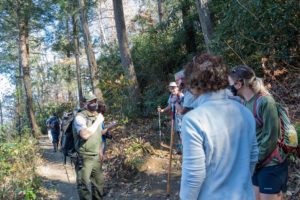 The 6.7-mile Trillium Gap Trail restoration was completed by the Trails Forever crew funded by Friends of the Smokies, an American Conservation Experience crew, and, during 2019, volunteers.
The restoration involved installing 681 steps through steep corridors, constructing 224 square feet of retaining walls, digging 525-linear feet of drainage ditches, creating 378-linear feet of elevated trail surfaces, installing 51 drainage features, and placing over 538 native stones along the trail.
Josh Shapiro, the Trails Forever crew supervisor, hiked part of the Trillium Gap Trail with FOTS members after the ceremony to show them improvements made to the trail.
Logistics involved in trail restoration
As crew supervisor, Shapiro is responsible for working with GSMNP staff to map out the restoration projects and then oversees the project — ordering materials, making staffing decisions, coordinating the restoration work, and supervising any volunteers. I contacted him about the Trillium Gap Trail restoration, and he answer questions and provided before and after photos of the trail and of crew members and volunteers.
FOTS: How were materials transported to the different locations on the trail?
Josh Shapiro: The Park Mule Team was able to transport locust logs to different sections of the trail and resupplied the NPS and ACE Crews staying on Mt. LeConte with food and gear throughout the 2020 season. The NPS Crew and ACE Crew did most of the heavy lifting as far as transporting tools/equipment and locust logs to each project site. This year the work took place between Grotto Falls and Mt. LeConte (approx. 5.4 miles).
FOTS: What are several improvements to the trail that will help those who hike to Grotto Falls?
Josh Shapiro: The crews we're able to significantly improve the trail walking surface by removing tripping hazards (roots and rocks), regrading the trail, and installing trail drainages to mitigate erosion. The crew also constructed stone and locust staircases, retaining walls, and turnpikes for a more stable walking surface and to establish sustainable drainage in areas where regrading the trail wasn't an option. The improvements will lead to a safer and more sustainable trail.
FOTS: How many people were involved in the Trillium Gap Trail restoration? 
Josh Shapiro: In 2019, nine people were on Trails Forever National Park Service crew, and eight persons were on the ACE crew. Fifty-three volunteers contributed 386 hours of trail work. In 2020, eight people were on the NPS crew and eight on the ACE crew. We were unable to have volunteers due to safety concerns from COVID-19.
FOTS: What contributions did volunteers make to the trail restoration and how was trail work affected by not having volunteers in 2020?
Josh Shapiro: Volunteers have always played an important role in Trails Forever Rehabilitation Projects. The first year of the project (2019) volunteers assisted the NPS Crew with rock and root removal from the trail surface, crushing stone to use as fill for trail structures, transporting fill material, regrading the trail, digging trail drainages, peeling locust logs, and brushing back the trail corridor to NPS standards from the parking area to Trillium Gap (2.7 miles). This season we were unable to work with volunteers (due to COVID-19 safety protocols) and had to modify the trail work plan accordingly to make up for the absence of volunteers.
FOTS: Is there anything else you'd like to share about this trail project?
Josh Shapiro: Other Trails Forever projects this year completed in addition to the signature Trillium Gap Trail rehabilitation included: Caldwell House foot log (Cataloochie), Wolf Ridge Trail foot log (Twenty Mile), Cosby Nature Trail foot log (Cosby), and Porters Creek foot log (Green Briar).
Trails Forever improves GSMNP trails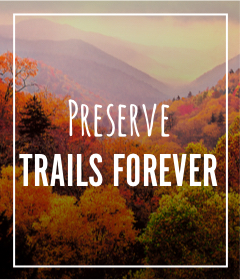 Friends of the Smokies established the Trails Forever endowment in 2012, thanks to a matching gift from the Aslan Foundation in Knoxville.
Today, the endowment has grown to more than $6 million and funds a full-time trail crew in Great Smoky Mountains National Park to reconstruct and rehabilitate some of the park's most impacted trails.
Prior to restoring the Trillium Gap Trail, the Trails Forever crew restored Forney Ridge Trail, Chimney Tops Trail, Alum Cave Trail, and Rainbow Falls Trail.
Learn more about contributing to the Trails Forever endowment.