by Julie Dodd
If you're looking for an uplifting and inspiring book to help you start off the New Year, Nancy East's "Chasing the Smokies Moon" is the one to read.
Nancy takes you along day by day as she and her hiking partner Chris Ford strive to set the Fastest Known Time (FKT) for hiking all the trails in the Great Smoky Mountains National Park, called the Tour de Smokies.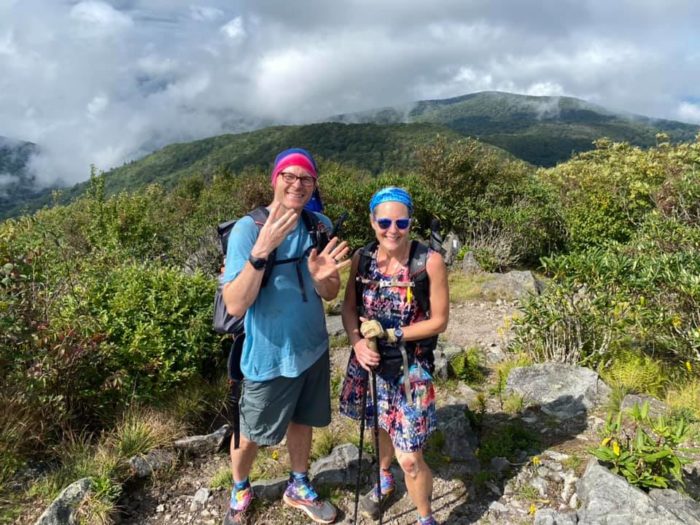 You'll read about the beauty and challenges of individual trails. Nancy describes the trails, the weather and the plant life. They began their hike Sept. 5, and their 29 days of hiking take them through the arrival of Fall in the mountains.
"Chasing the Smokies Moon" is a good guide for making decisions about which hikes to try. Even though you may never hike some of the remote or most strenuous trails, you can experience them through Nancy's descriptions.
Beyond the story of their hiking, Nancy shares the inspiration, preparation and support involved in their accomplishment – all factors in taking on any major goal.
Inspiration
A key part of Nancy and Chris' decision to take on the challenge of the Tour de Smokies FKT was based on Nancy's inspiration to promote hiking safety.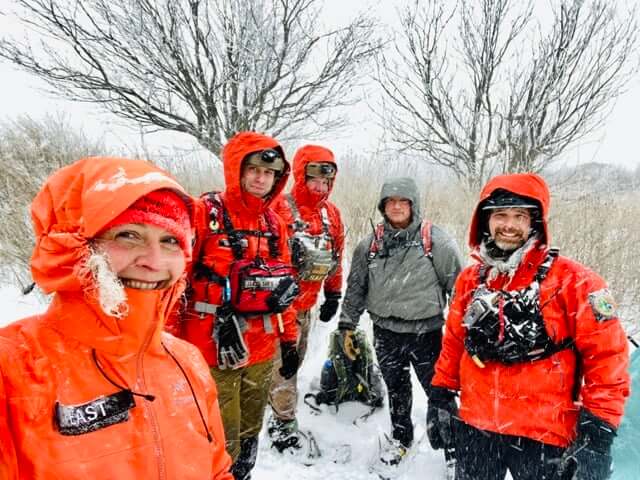 Nancy, a member of the Haywood County (North Carolina) Search and Rescue Team, was part of the effort to locate Susan Clements, a 53-year-old who was lost off the Forney Creek Trail in the Park, in October 2018.
Clements had been hiking with her college-aged daughter on the popular trail and was only a mile from the parking lot, when her daughter went ahead to visit Clingmans Dome. Susan never reached the parking lot.
Susan's body was found seven days after she went missing. She died due to hypothermia in a remote area about two miles from the parking lot. The tragedy inspired Nancy to become an advocate for hiking safety.
In 2019, Nancy (trail name "Seal Mom") and Chris (trail name "Pacer") hiked the Tour de LeConte to raise money for the Friends of the Smokies Trail Forever renovation of Trillium Gap Trail. They accomplished the challenge, hiking all six trails to Mt. Le Conte — a total of 44 miles — in under 24 hours. Nancy and Chris completed the Tour de LeConte in 16 hours and 13 minuets and raised $7,000.
Then came the really big decision. Nancy and Chris agreed to attempt the Tour de Smokies FKT as a fundraiser for Friends of the Smokies to support GSMNP's preventive search and rescue efforts.
Planning
Every day's hiking was planned to enable Nancy and Chris to cover as many trails as possible. That strategic planning was devised by Nancy and Chris' hiking friend Lane DeCost.
Lane mapped out their daily hikes, making sure every trail was included and to minimize, as much as possible, the need to hike a trail segment more than once. Such re-hiking was necessary in some cases in order to reach some trailheads. Lane also made updates to the hiking plans as needed during their Tour.
Part of the planning involved transportation to and from their hikes. On some days Nancy and Chris would drive both of their cars – dropping off one car at one end of their day's hiking and then drive the other car to the trailhead for the start of the day's hike. On many days, Chris' wife, Jamie, would drop them off at one trailhead (often before sunrise) and pick them up at another trailhead at the end of the day.
Their planning also included testing their clothing and gear, determining food for the trail, and lots and lots of training hikes. You'll also read about changes made to their plans, including having to reroute due to a bear attack on the trail they were planning to hike that day.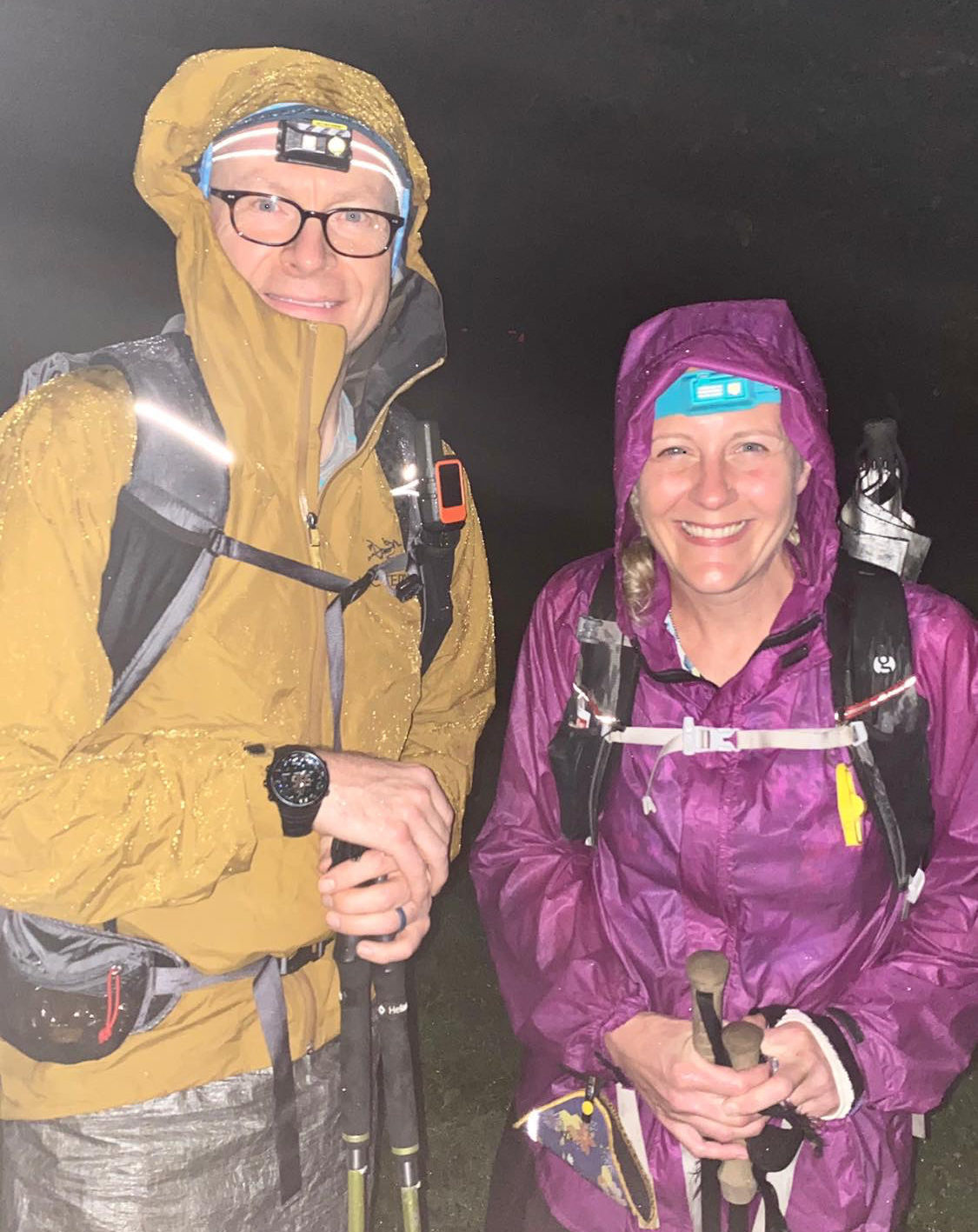 Support
In her day-by-day account of their hiking, Nancy talks about the time she and Chris would hike in companionable silence, leaving each of them to their own thoughts.
Nancy reflects on the many supportive people in her life, especially her husband, Larry, and her mother, whose passing was on Nancy's mind and heart. Nancy also considers all the people who were making their Tour de Smokies possible. Chris' wife, Jamie, was a constant supporter — doing their laundry and having a cooler of chocolate milk and snacks when she picked them up at the end of a day of hiking.
Friends would drop off food for them. Hikers they didn't know but who had heard about Nancy and Chris's hiking challenge would meet them on the trail and cheer them on. Lane provided regular updates on trail conditions and made changes in their hiking plans to adapt to unexpected events.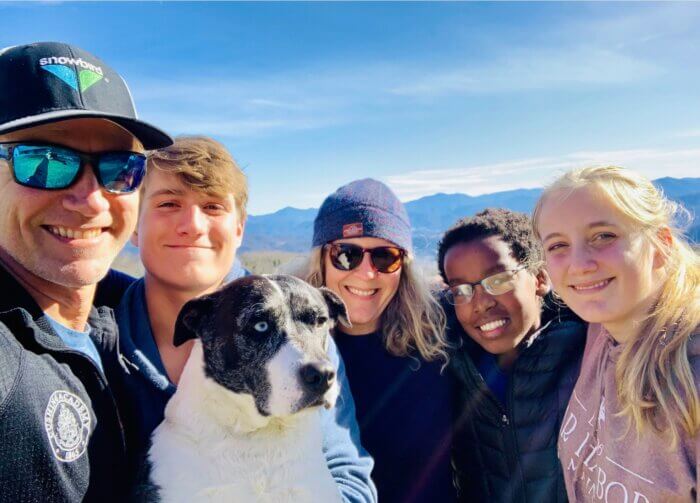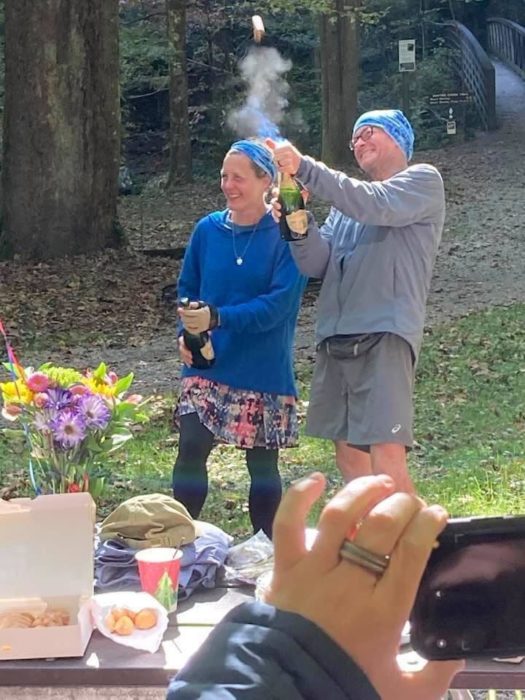 Successes of their Tour de Smokies
Nancy and Chris did set the Tour de Smokies FKT record for a female/male team! On Oct. 3, 2020, they completed all the trails in the Smokies — hiking 947.9 miles — in 29 days, 10 hours and 12 minutes.
Nancy and Chris raised more than $30,000 for Friends of the Smokies to support Great Smoky Mountains National Park preventative search and rescue efforts.
Nancy also used the Tour de Smokies as a catalyst to make a big change in her career.
She shares her story – including her challenges and setbacks – to encourage her readers. She ends her book by saying, "I hope this book inspires a grand adventure in your own life."
Purchase 'Chasing the Smokies Moon'
Visit Nancy's website to order an autographed copy of her book, which comes with free shipping and a complimentary ebook.
On her website, you can check Nancy's events this year where you can purchase her book or bring your copy of the book for her to autograph it for you.