by Julie Dodd
#GivingTuesday, on Dec. 3, is an opportunity for you to join the global day of giving to help fund important projects in the Great Smoky Mountains National Park.
This year's Giving Tuesday special project is rehabilitating and paving the trail to the John Oliver cabin (see photo at top of this post) to make it accessible from the parking area on Cades Cove Loop Road to the cabin.

Visitors of all levels of ability visit the Great Smoky Mountains National Park. Paving the trail to the cabin will make it possible for visitors with disabilities to enjoy one of the most popular areas of the park.
Making Oliver Cabin Trail accessible
John Oliver and his wife, Lucretia, were the first permanent settlers in Cades Cove, arriving in 1818. The cabin was built between 1822-1823 and remained in the family until the establishment of the national park.
The cabin now is a replica, providing insight into what living conditions were like for early settlers.
The trail also provides an opportunity to view wildlife and offers great views of the Smokies' crest across the field from the cabin.
The trail is currently 0.3 miles in length. It is expected that the trail would be rehabilitated to have an accessible surface and be at least 8 feet wide to allow for passing of visitors and for wheelchairs in this high use area.
"We've worked really hard over the last decade to make sure our campgrounds and picnic grounds are accessible to people of all abilities," said GSMNP Superintendent Cassius Cash. "I've pushed our staff to look for even more opportunities to make park experiences fully accessible and I'm excited to see this project coming to fruition."
The total cost of this project is $175,000. Every dollar donated is important. By supporting this #GivingTuesday park project, the John Oliver Cabin Trail will be accessible for many more visitors.
Once this project is funded, donations will be used for the restoration and maintenance of other historic buildings throughout the park.
Ways to donate
Giving Tuesday is Dec. 3, 2019, but you can donate anytime online, on Facebook or by mail:
Friends of the Smokies
#GivingTuesday
PO Box 1660
Kodak, TN 37764-7660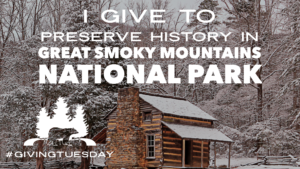 FOTS social media toolkit
FOTS is providing a social media toolkit to help you share your support for the Great Smoky Mountains National Park and to encourage your friends on social media to become a Friend of the Smokies.
Click on these social media links to download images and text (such as this example) to use with your Facebook, Instagram or Twitter accounts.