by Julie Dodd
What should I eat and drink when hiking?
That's a question hikers ask, whether they are going for short hike or a multi-day backpacking trip.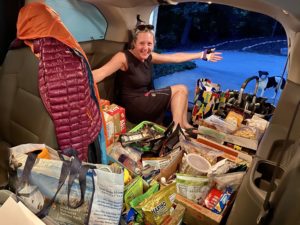 Food and drink are two of the Ten Essentials the National Park Service recommends that all hikers carry with them.
Nancy "Seal Mom" East and hiking partner Chris "Pacer" Ford know about the importance of eating and drinking on hiking trips.
Between the two of them, they have hiked all 900 miles of trails in Great Smoky Mountains National Park five times.
East and Ford are in Week 3 of their Tour de Smokies, hiking all 900 miles to raise $60,000 to fund GSMNP Preventive Search and Rescue program.
[The photo at the top of the post is of Nancy and Chris celebrating completing Day 17 of their hiking. Their celebration beverage was chocolate milk.]
The donations Nancy and Chris raise will fund two rangers who will train volunteers to talk with park visitors before they get on the trail to make good hiking decisions. The rangers also will plan and assist with search and rescue operations.
You can help support them and hiking safety in GSMNP by making a donation.
The catalyst for Nancy and Chris' Tour de Smokies is to promote hiking safety in GSMNP. Nancy is a volunteer for the Haywood County (North Carolina) Search and Rescue Team and has been involved in a number of rescue efforts.
Preparing for their Tour de Smokies included hiking 7,500 miles in the last 18 months and working with their hiking friend and Nancy's Haywood County Search and Rescue teammate Lance DeCost to map out their daily routes.
The success of each day's hiking also depends on what they eat and drink.
Food and snacks for hikes
FOTS: How do you make decisions about how much food to take on a hike? What foods and snacks do you recommend?
Nancy East: We make our decisions for trail food based on caloric density and quality of calories, primarily.  Things like nut butters, dried fruit, whole nuts, dried jerky, crackers, granola bars with high-quality ingredients, and even good ol' PB&J sandwiches are typically in our packs.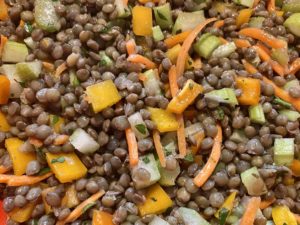 Dehydrating meals is a hobby of mine, so I enjoy dehydrated bean dips, cold salads made with whole foods like veggies and lentils, and even pasta-based meals.  
We also enjoy high-quality meal replacement drinks. Chris enjoys one called Bertrand and I often make homemade smoothie mixes with a blended mix of rolled oats, dried milk, chia seeds and dried fruit.  
We're not purists with good nutrition on trail though, and we do eat some junk food too!  For instance, Cheetos are my go-to "feel good" snack when I'm really tired and worn down mentally. 
And we both always have a small stash of our favorite candy too. Sometimes food feeds our soul as much as our bodies, and the lowest quality calories are often what help the most with that particular need.
What goes in our food bag each day varies, depending on what sounds good at the time. We do place a strong emphasis on foods we can eat "on the go."  Since our training hikes amount to 12-15 hours on trail, we tend to eat quickly on trail and sometimes even eat while we hike, if the terrain isn't too demanding.
Water and electrolyte replacements
FOTS: How much fluid do you take with you for hikes? What do you recommend in terms of water and other beverages?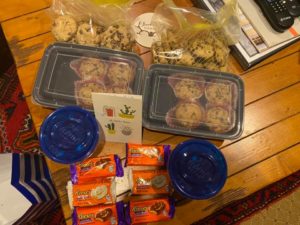 Nancy East: Since the Smokies are filled with natural water sources, we typically only carry a liter of water a time, unless we know our route will have long dry stretches (and we always check before we hike, to see if that might be the case).  
Chris and I are both big believers in electrolyte replacement powders on long and/or strenuous hikes.  Oftentimes, we find that using one of these powders is exactly what our bodies need to put pep back in our step, even over food. 
If I'm feeling sluggish, I can almost guarantee electrolyte replenishment is all I need to perk my body back up. We both enjoy products from Nuun and Skratch Labs. 
FOTS: Do you use a hydration pack?
Nancy East: Neither Chris nor I use a hydration pack.  We both use a Smart Water bottle and refill it as needed. We always filter water, no matter how pristine the water source may look. 
We even use the same Smart Water bottle over and over, washing it at home in between uses.  Chris used the same disposable water bottle for the entire length of the Pacific Crest Trail (over 2,600 miles)! 
Importance of filtering water
FOTS: Why shouldn't hikers drink untreated water from streams along the trails?
Nancy East: No matter how pristine and pure a water source may look, there is always a risk of consuming a microscopic organism that will wreak havoc on your GI system.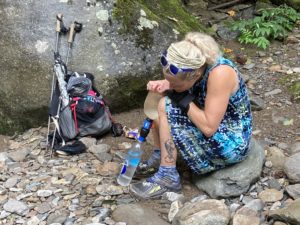 Giardia and Cryptosporidium are the two most common culprits that hikers contend with after drinking unfiltered water. Neither is a souvenir you want to take home with you from a hike!  
Filtering water is a quick and easy process, and it's just not worth the risk to drink unfiltered water, in our opinion.
FOTS: What do you recommend in terms of a water purification system? 
Nancy East: Chris and I are both big fans of the Sawyer Squeeze water filter.  It's incredibly lightweight and filters a liter of water in minutes.  The Sawyer Squeeze doesn't alter the taste of the water which is an added bonus, since the water in the Smokies is so refreshing! 
FOTS: When you are spending the night at a backcountry campsite, how do you store your food?
Nancy East: When we are spending the night in a backcountry site in the Smokies, it's incredibly easy to safely store our food, simply by using the bear cables.  Every single backcountry site has them and they make hanging your food high from the reach of bears and other critters nearly effortless!
***
You can read other posts on hiking safety tips from Nancy and Chris — hike planning and navigation tools and footwear and hiking poles.
Support Nancy and Chris' Tour de Smokies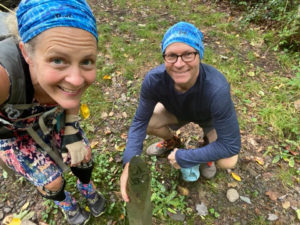 You can support Nancy and Chris' hiking journey and improve safety in GSMNP for all hikers by making a donation on FOTS website or on the Facebook fundraiser page.
Your donation can help Nancy and Chris make progress toward their goal of raising $60,000 for GSMNP Preventive Search and Rescue program.
You can virtually follow Nancy "Seal Mom" East and Chris "Pacer" Ford during their Tour de Smokies fundraiser hiking journey.
Regular updates and photos from their daily hikes will be provided through Friends of the Smokies and Nancy's blog, Hope and Feather Travels, and social media channels.
When you hike, be sure to carry The Ten Essentials recommended by the National Park Service.
Tour de Smokies Sponsored by