by Danny Bernstein
Hike Leader

We chose Big Creek for May's Classic Hike because the trail is wide and smooth. This is the kind of trail that enables conversation among hikers, unlike trails that require single-file hiking and focused attention on footing.
The wide trail was just what we wanted to provide Dana Soehn, the new FOTS President & CEO, for the opportunity to talk with the hikers.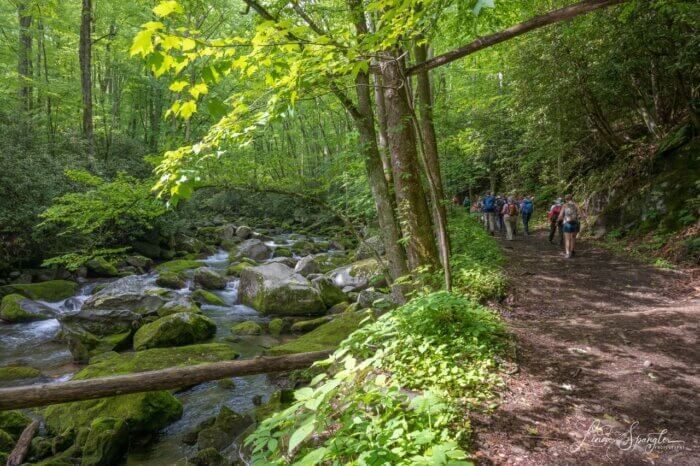 The plan was for me to be in front, for Marielle DeJong, FOTS Director of Development, in the back, and for Dana to rove the hike line to meet people. Smart move since many hikers came to meet Dana.
Registration for the hike had filled up quickly when it was announced Dana would be joining the hike, and we had a full house. For some hikers, it was their first Classic Hike of the Smokies. Good choice!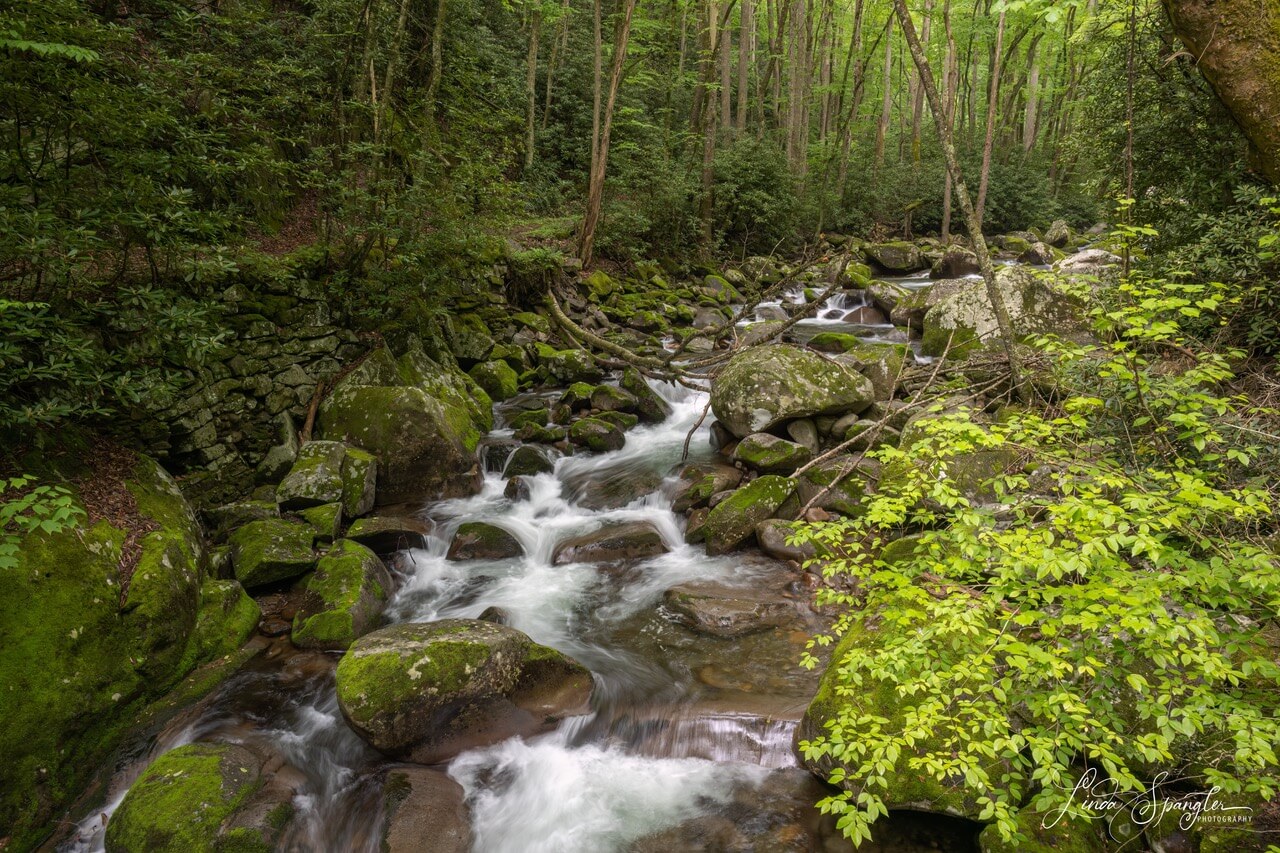 In the parking lot, Dana introduced herself and gave a brief summary of her career – working in Great Smoky Mountains National Park for more than 30 years.
The Big Creek Trail is known for its flowers in early Spring, and there were still a number of flowers along the trail.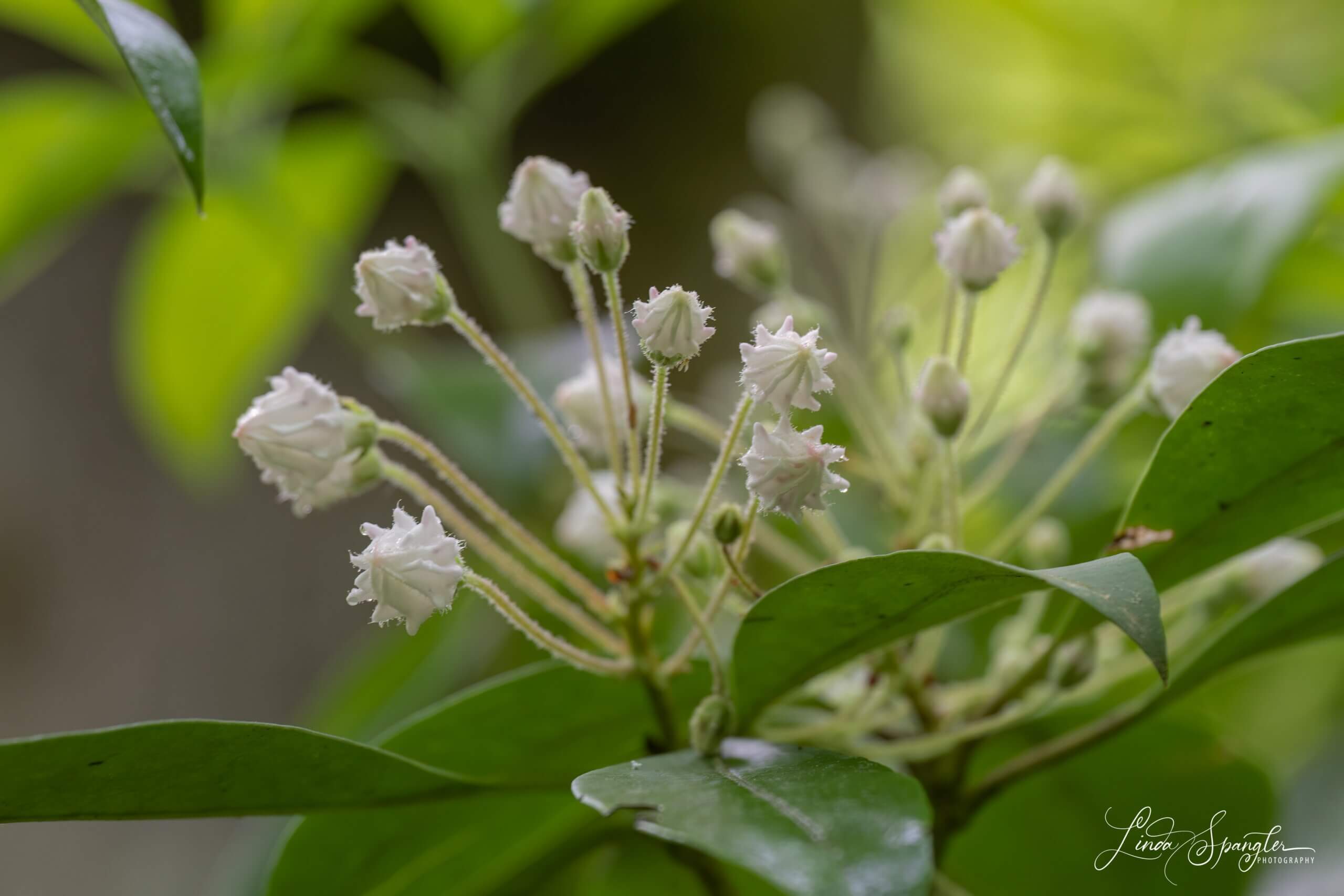 We stopped at Midnight Hole, a pool about 1.5 miles from the trailhead.
It seemed much too cold now for a swim. But Linda Spangler, the consummate photographer, got into the water, long pants and all, to get the shot she needed.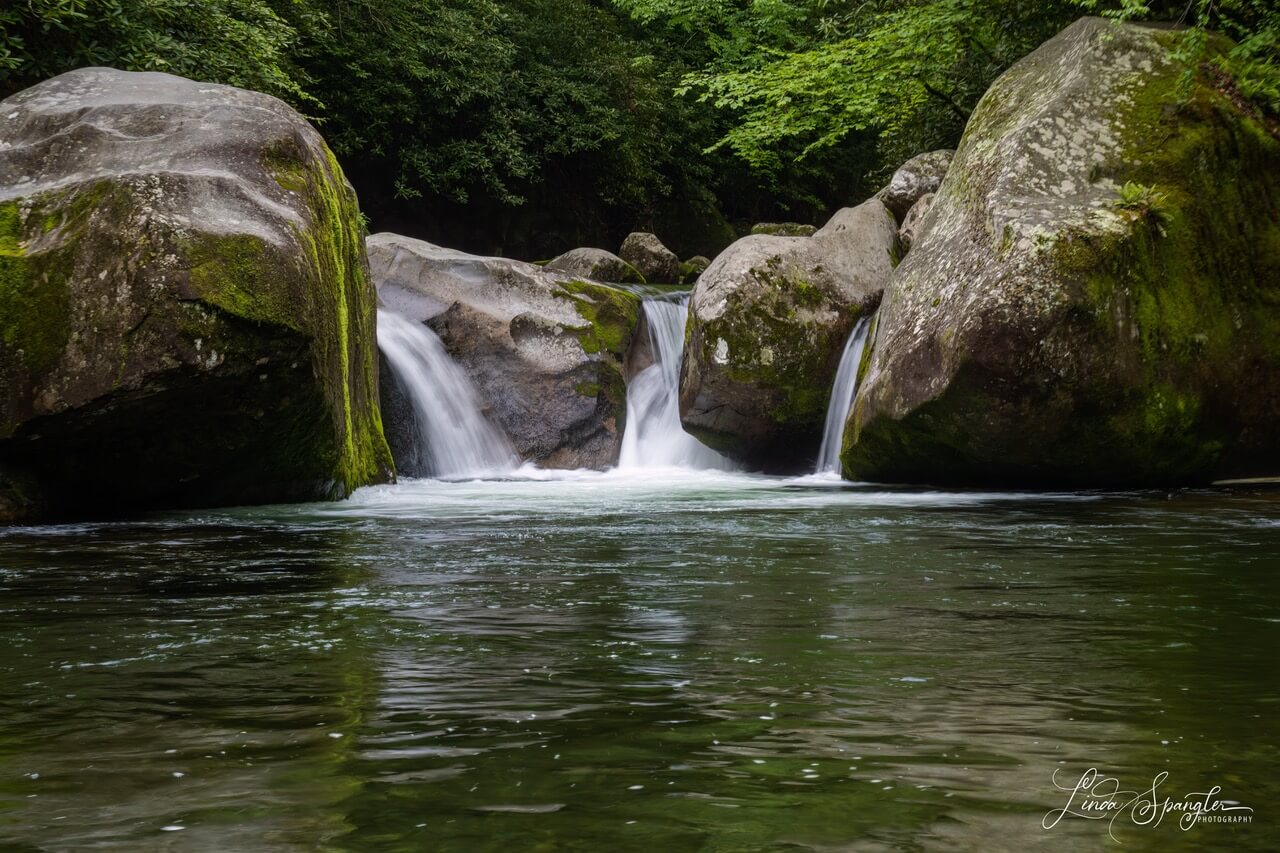 Dana relayed that this pool is a special place for their son Garrett. From the time he was three years old, he has jumped into the water at Midnight Hole on his birthday. Now, though Garrett lives in Nashville and has his own life and career, he returns to Midnight Hole to continue the tradition.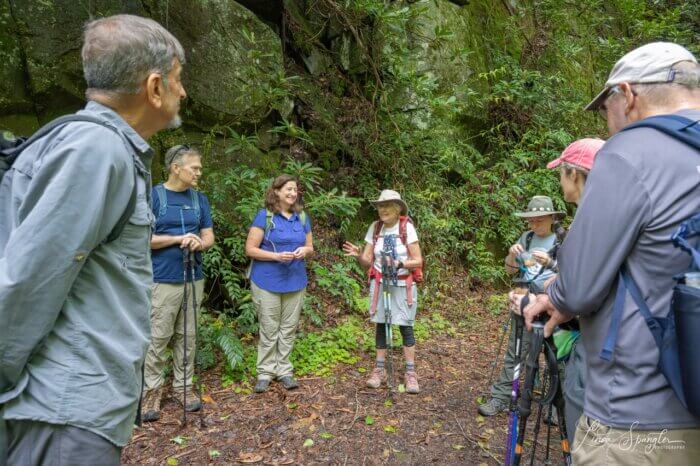 A half-mile later, we stopped at Mouse Creek Falls. We gathered, took photos, and just caught up with each other.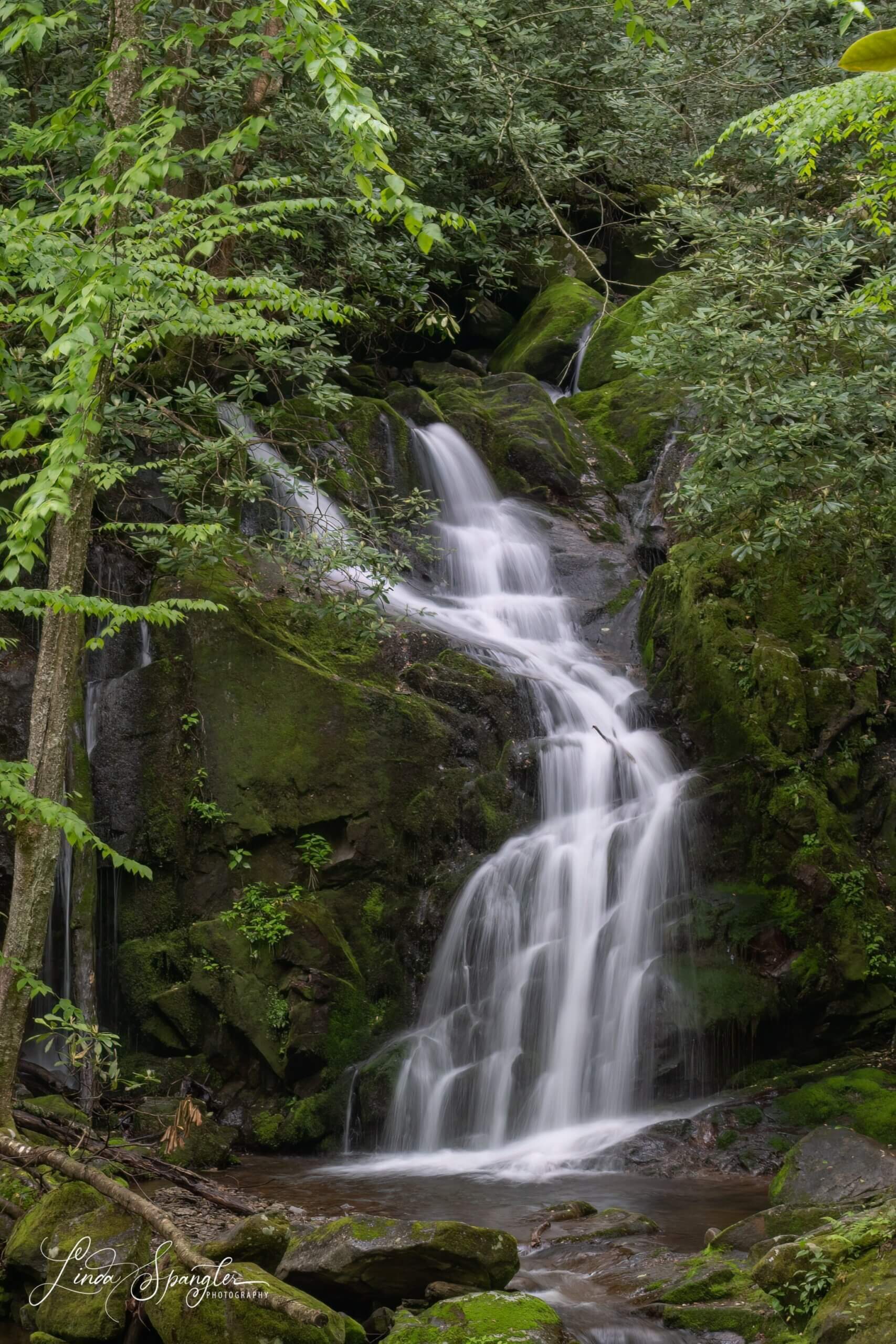 The turn-around point was the bridge over Big Creek.
When we got back to the parking lot, we pulled out lunches from our cars and settled at the long picnic table.
Dana and Lynda Doucette, a retired GSMNP ranger, revealed more stories about the park and their experiences. A great day well spent.
---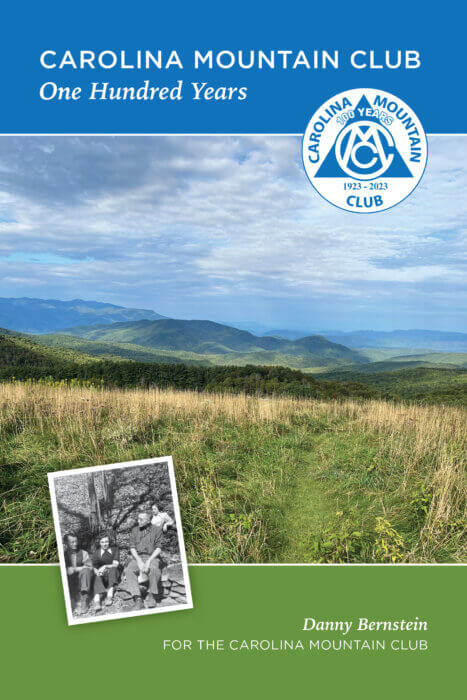 Outdoor writer and avid hiker Danny Bernstein brings more than 40 years of trail experience with her, having previously completed every trail in Great Smoky Mountains National Park, the Appalachian Trail, the Mountains to Sea Trail, South Beyond 6,000 Challenge, and three Caminos de Santiago. She has written several books on hiking. Her most recent book is Carolina Hiking Club: One Hundred Years. Learn more about her books and read her blog posts at https://hikertohiker.com/
---
Register For Classic Hikes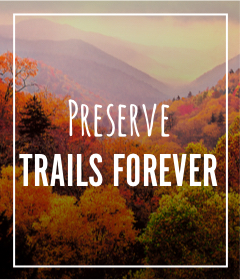 The Classic Hikes are the second Tuesday of the month, March through December, with hikes of different levels of difficulty. Each hike features special elements of the Smokies, from wildflowers to historic buildings to waterfalls to mountain views. A member of the Classic Hike Advisory Team leads the hike.
The next available Classic Hike is the July 11 hike to Hemphill Bald from Polls Gap. The June hike is sold out.
You must register prior to the hike.
Step 1: Review the Classic Hike of the Smokies Waiver here.
Step 2: Register for your hike(s) and submit payment.
After completing registration, you will receive an email the Friday before the hike with directions, and more information. All hikes begin at 9 a.m. The cost is $20 for members and $35 for non-members.
Many of this year's Classic Hikes are part of the 100 Favorite Trails Challenge. Charlies Bunion = #27, Chimney Tops = #22, Deep Creek Waterfalls Loop = #18, Hemphill Bald from Polls Gap = #37, and Smokemont Loop = #28.
Trails Forever Improves GSMNP Trails
Proceeds from the Classic Hike series benefit Trails Forever. The Trails Forever Crew has restored Alum Cave Trail, Rainbow Falls Trail, Trillium Gap Trail, Abrams Falls Trail, Chimney Tops Trail and Forney Ridge Trail. Ramsey Cascades Trail is the crew's current project.
Special Thanks To Our 2023 'Classic Hikes Of The Smokies' Sponsors: