by Julie Dodd
#GivingTuesday started in 2012 as a day to encourage people to do good and has grown into a global movement.
#GivingTuesday 2020 is your opportunity to support the Great Smoky Mountains National Park wildlife management programs that protect black bears and elk in the park.
Protect GSMNP black bears
Black bears are an icon of the park. About 1,500 black bear live in the park. This equals a population density of approximately two bears per square mile. Bears can live 12-15 years or more, however bears which have had access to human foods and garbage have a life expectancy of only half that time.
Bear Management Project $ 4,200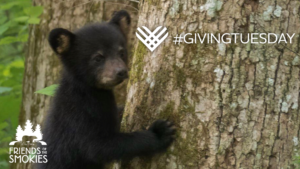 These funds will enable wildlife biologists to purchase new and/or refurbish old black bear GPS radio collars. These collars will be used when DNA analysis is needed to track bears suspected of a bear attack or other significant human/bear interaction while we wait on confirmation of matches between the attack and the suspect bear. These collars are also being used for pilot research projects to determine what happens to conflict bears that are relocated out of the park, as well as, the effectiveness of aversive conditioning tools on bears.
Reduce Backcountry Bear Problems with Food Storage Cable Systems  $ 8,000
Each backcountry campsite and shelter has a pulley and cable system which campers are required to use to hoist their food and packs out of the reach of bears for the increased safety of both visitors and bears. Each year a number of these systems are damaged through use or by falling trees and must be replaced.
Protect GSMNP elk
Friends of the Smokies has played an important role in the successful 19-year effort that has re-established elk into GSMNP. In 2001, 25 elk were brought to the park from the Land Between the Lakes Recreation Area. Another 27 animals were imported in 2002.
Elk Management and Monitoring $ 15,700
These funds will allow us to purchase immobilization drugs, tags, GPS collars, aversive conditioning supplies, and capture equipment. These monies will also help us support staffing needs to repair enclosures and other work activities associated with the elk program. This works helps us better manage elk populations and model population survival and reproduction rates.
Wildlife Program Operational Support (4 seasonal employees) $100,900
These funds are used to hire seasonal field staff to conduct wild hog control. The positions work from December through June, the most efficient and effective time of year to control hogs. The efforts of these positions are the primary reason we have been able to keep the hog population relatively low. A seasonal technician is also hired during the summer to support elk monitoring, as well as, assist with human-bear and human-elk conflicts.

Ways to donate
GivingTuesday is Dec. 1, 2020, but you can donate anytime online, on Facebook or by mail:
Friends of the Smokies
#GivingTuesday
PO Box 1660
Kodak, TN 37764-7660
FOTS social media toolkit
FOTS is providing a social media toolkit to help you share your support for the Great Smoky Mountains National Park and to encourage your friends on social media to become a Friend of the Smokies.
Click on these social media links to download images and text (such as this example) to use with your Facebook, Instagram or Twitter accounts.